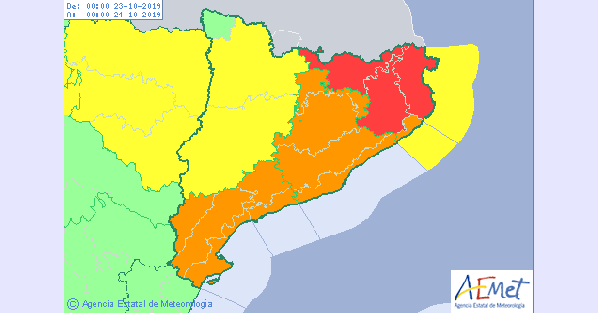 During the weekend, "a mass of Atlantic air, fresh and humid" entered the Peninsula, leaving precipitations and temperature drops especially in the interior and northeast of the country.
AEMET, the Spanish state meteorological agency, has raised the weather alert to RED of extreme risk, especially in Girona and with more than 200 litres per square meter expected in the province of Castellón.
The DANA will principally strike on the northeast of the Peninsula throughout today until Wednesday with it's greatest impact in the Balearic Islands, the north of the Valencian Community and Catalonia.
The phenomenon that takes place in the Mediterranean is the result of a collision between a front of cold polar air which slowly advances over western Europe at high altitude and a mass of warm, humid air. A result that is experienced in the form of intense rainfall and strong winds. They can be seen on many sides, but the Mediterranean basin by its geographical characteristics is a natural factory of DANAs.