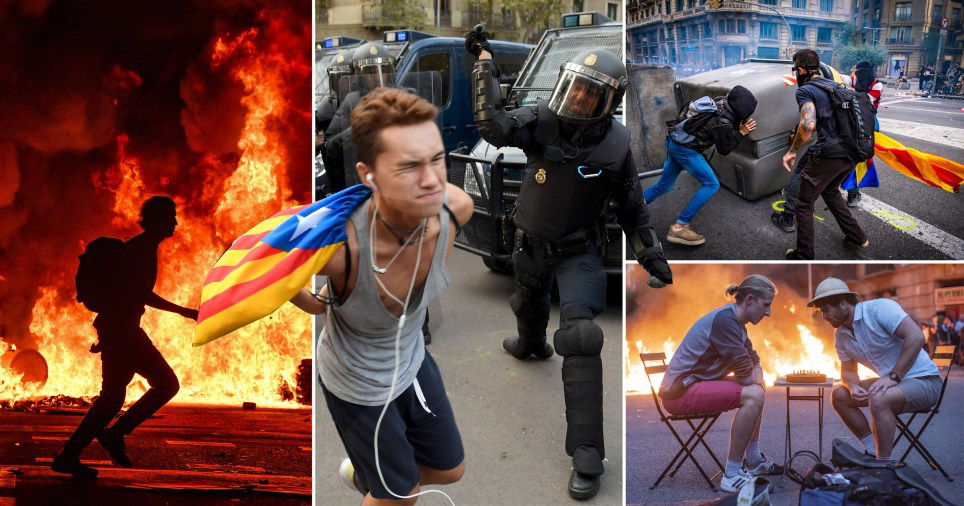 Barcelona's mayor appealed for calm yesterday after the city saw its worst night of rioting since protests over the jailing of pro-independence leaders began last week but tonight it's got even worse.
Mayor Ada Colau told protesters 'this cannot continue' and urged: 'Barcelona does not deserve it.' Radicals have fought with police over the last five nights across various Catalan cities in the wake of largely peaceful demonstrations. Clearly, they have not taken any notice and stepped up with the violence. It's a full riot now as we write.
Outnumbered police officers fired tear gas and water cannon at protesters on Friday night after being pelted by chunks of pavement, firecrackers and other items. Officials have said more than 500 people including demonstrators and police had been injured during the riots while 150 arrests have been made. Tonight rioters have gone to more extreme measures. Whilst more arrests have taken place tonight so have the rioters taken action.
Spanish interior minister Fernando Grande-Marlaska said yesterday that 101 police officers were injured on Friday alone and 264 police vehicles severely damaged across the week's riots, that figure as we write seems to have raised to 200 injured officers, with one being stabbed to the leg, as knife-wielding rioters attack the police and security forces.
It' a full riot in Barcelona now and we will update first thing to the troubles.