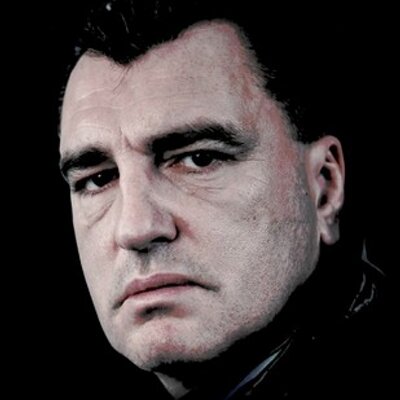 Exclusive Euro Weekly News interview with notorious former football hooligan Annis Abraham JR former leader of " The Soul Crew" as we asked his views on Monday night's ugly scenes in Bulgaria.
Millionaire Abraham once the leader of the Football hooliganism mob known as "The Soul Crew", terrorised many Towns And Cities during the '80s and early '90s, when trouble at football was rife as well as fashionable to many in the UK.
Abraham now resides in Mallorca with his 3 children and lovely wife Joanne.
After the recent issues on Monday night in Bulgaria that saw UEFA charging both the Bulgarian Football Union and English FA, we The Euro Weekly News interviewed Abraham for an insight to his past as well as his thoughts how European counterparts stamp out racist scenes and hooliganism that still plague other European Countries.

GS. Thank you, Annis, for first agreeing to the interview, whilst we are aware you are now a father of 3 and happily married and settled in Mallorca and since writing your memoirs in 4 books, you don't rake up the past much so thank you for this exclusive interview as many here in Spain with no disrespect haven't read " diaries of the soul crew" or any of your other titles and our readers especially after Monday night won't have an insight to football hooliganism but will just be shocked by the actions they recall and saw at football in the past and re highlighted on Monday night.
GS. So, Annis, can we go back to the start and ask you how old you were and how you became a football hooligan?
AA. I was 13 years old, I went with a few older Cardiff lads to my first away game in a minibus to London as we Cardiff City, were playing West Ham United. West Ham were and still are infamous for their firm known as the ICF ( Inter City Firm) and the older lads wanted to go and try their luck with them, we didn't do very well and I got battered that day as we were confronted by some right hard EastEnders who ran us ragged and I took my first " battering" but at the same time the buzz was immense and I got the bug!
So every Saturday after it was football for me and to protect ourselves we formed what became known as " The Soul Crew" and travelled together as a firm, to challenge other firms together. We ran for years afterwards and became known as one of the toughest firms to face.
We had characters in the firm from the docks area in Cardiff and we got established as a firm the majority feared, just like West Ham, whilst they had the likes of Cass Pennant, Bill Gardner, Carlton Leach, Daya, Spenner and many more, we had assembled our own and were not to be messed with within a short space of time. It went from there really with most football clubs at the time also forming a firm, Birmingham had " the Zulus" Millwall the "Bushwackers" Leeds Utd " The Service Crew" and so forth, the majority of clubs formed a firm.
GS. Ok, so Annis, how big were these "firms" at the time?
AA. It all depended on the club really and the region, not the size of the Club, we were playing in League 4 in those days but we still had one of the biggest firms with around 300 Soul Crew Members who travelled away every game. We went to watch the football but the big buzz then was the fight with another firm, it was never weapons or anything like that, it was just a good old fashioned punch up! The crack of going to another firms town or city and "giving it large" produced immense adrenalin rushes at the time.
GS. Right Annis, thanks for the insight of the past, so there's one question I need to ask due to what our readers would have seen on Monday night, we saw such awful racism in Bulgaria, in your era was racism rife?
AA. We the Soul Crew were never racist, many of our firm were black themselves, Cardiff being a multicultural city, my roots are actually Egyptian as an example, but yes it was rife at some clubs, in fact, you could have called it extreme, NF supporters were also football fans and in firms, black players would get terrible abuse at some games as well as fruit thrown at them from the crowd as well as vocal constant abuse. I've even heard at the time fans hurling abuse at their own players, I was at Chelsea once and they were shouting for a player to take his boot's off indicating he would run faster. We were never racist though as pointed out and I was never a racist person in general life but yes it was rife, to say the least.
GS. So Annis, by the looks of things, racism has been stamped out in the UK thankfully at games, so why do you think it's taking place as it did in Bulgaria?
AA. Ah, you see! England hooligans were notorious and years ahead of other Countries, now these countries want to be the up and comers and they copy the England of the past and do so, you only had to look at the Russians in the last Euro's, but when England come to a Country now these up and comers treat it as the big one for them. Hooliganism is rife in Europe with a "copy cat" scenario of the past in England where hooligans and firms have been eradicated for many years now.
GS. That brings me to an interesting point and question. How did it stop for firms and you especially?
AA. Thatcher, Margaret Thatcher, went to war with us she did! she smashed us with complete zero tolerance, long prison sentences, having your passport removed, 5-year banning orders from games, she didn't just go for the clubs she went for every individual and she cleaned the game right up and put an end to it all.
That's what they should be doing in Europe now not just placing sanctions on Clubs and Countries football associations, take Bulgaria on Monday, camera's caught at least 50 clear images of faces involved, they should be rounded up and banged up with heavy prison sentences, that's the only way they will stop it, fining clubs etc is a waste of time, we used to get picked up on film on a Saturday and the following week a dawn raid would take place on our homes, slinging firm members in jail on long stretches.
GS. So one Woman was strong and said enough was enough and it worked?
AA. Yes, she cleaned it all up by being tough with a no zero tolerance towards us and it just wasn't worth it for the hooligan.
GS. I see Annis, and what did it take you to excuse the pun " grow up"?
AA. I had a couple of Crown Court cases of which I'm ashamed of now, but I wasn't going to get involved anymore and didn't want to be involved in all that grief. Also, I met a woman who's now my wife and having a family/children – no way I'm not losing my liberty for this I thought back in 2001 when my daughter was born.
GS. Makes sense Annis and glad that you saw the error of your ways, so finally do you still go to football?
AA. Yes, I go with my three daughters, they love it and have the football bug for the right reasons, I fly back for Cardiff games now we live here in Santa Ponsa but locally we follow the mighty Athletico Baleares! always been a sucker for an underdog as they have really loyal fans!
GS. Thanks again Annis for the insight and your thought and we hope you enjoy your football with your lovely Children. So those were the personal thoughts of former hooligan Annis Abraham on how Europe needs to deal with the current issues as seen on Monday night.