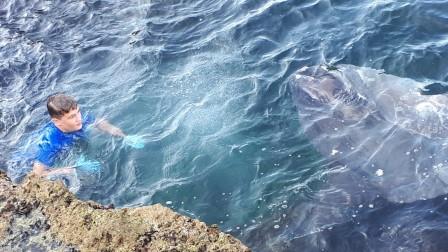 WHEN officers from the Gibraltar Environmental Protection and Research Unit (EPRU) were alerted to news that a large fish was in distress off the coast near Camp Bay, they rushed to the scene.
They were however beaten to the rescue by 13-year-old local boy Alexander Sanchez-Soiza who had seen what was happening and had jumped into the water to help keep what turned out to be an enormous Sun Fish from harming itself on rocks.
It was his quick thinking and selfless determination that ensured that this giant fish (which can grow up to 1,000 kilos) named after the fact that it basks on the surface of the water was saved from major injury.
These fish are considered delicacies in the Far East but European Union laws prohibit their sale for food or any other commercial use.
The Minister for the Environment, Professor John Cortes, invited Alex to the Ministry to thank the young man for what he had done where he revealed that he wanted to become a Marine Biologist and was invited to join the EPRU in a future routine patrol of Gibraltar's waters on board Storm Petrel.