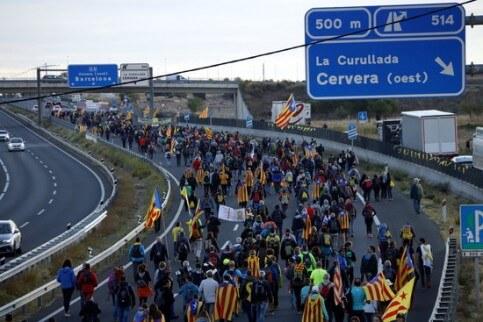 Now into the fourth day of protests by pro-independence supporters in Barcelona.
The protests against the supreme court's decision to jail 9 Catalan leaders have forced Spain's caretaker prime minister to call urgent meetings.
After another night of unrest and unruly behaviour that has seen 30 arrested and a minimum of 130 people injured including an eye loss, five separate marches are underway which are planned to converge into a major rally in Barcelona on Friday.
The marches have started in different towns and all head to Barcelona covering 100km's.
Student unions have also called for a 3-day strike.
Whilst Catalan president Quim Torra called an urgent meeting with his ministers, Prime minister Sánchez called more meetings with the top bodies of the main parties to discuss the situation currently in Catalonia.
Barcelona mayor Ada Colau said the scenes seen yesterday were unacceptable and they were putting citizens at high risk.
She went onto call for calm and reject the use of barricades.
Meanwhile, the government released a statement that read " A minority seeks to impose violence on the streets of Catalan cities and it's clear that we are not faced with a peaceful civil demonstration but coordinated acts by groups using violence on the streets to break the co-existence in Catalonia."
The Government statement finished by saying that they will guarantee the security and co-existence in Catalonia.
Tensions though are rising again and more trouble looks ahead in the region as the marchers head forward and police leave has been cancelled as they prepare for disturbances.