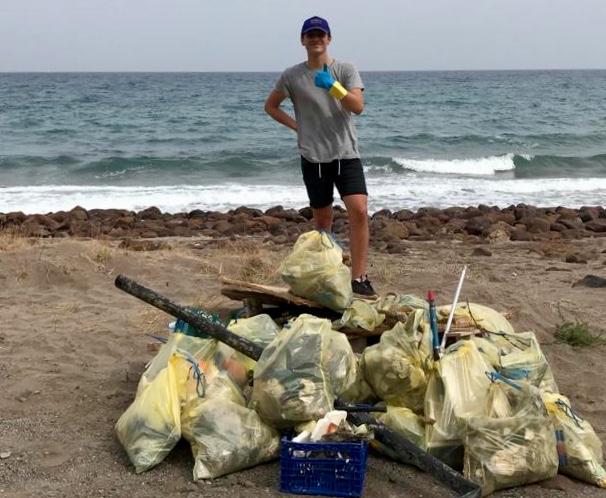 BEDAR student Toby Desmond has made it to Costa Rica as a volunteer with charity Operation Raleigh following intense weeks of fundraising work to gain the cash for the trip.
The teenager did beach cleans, car washes, translations and worked in his parents' Olive Properties office. He even put the money he received as 18th birthday gifts towards the cause.
Just before he set off on the once in a lifetime experience Toby expressed his enormous gratitude to all those who had helped him turn his gap year idea into a reality.
"I would like to thank everyone, all the local businesses and friends and family, who helped me raise my target of €4,500. I spent five weeks working hard on fundraising events, but couldn't have done it without the support of the businesses and people here.
"I have an exciting expedition ahead of me", Toby added, confessing he was also a little bit nervous and expected to have very little contact with the outside world while he is away.
No doubt Toby's parents Jo and Tim will be keeping a close track on the Operation Raleigh Facebook page and Instagram accounts to try and keep up with how Toby is getting along.
Toby will be in Costa Rica with the sustainable development charity for 10 weeks to do his bit in assisting accessibility to conservation areas and in making education more available.
Speaking to the Euro Weekly News back in the summer Toby revealed he would be based in Turrialba, and would travel to various areas of the Central American country known for their rich variety of plants and fauna.
"Over the years these areas have needed more protection in order to survive, and thanks to the international help of charities such as Operation Raleigh they have been able to thrive and serve as educational tools for both the locals and us volunteers", Toby explained.
"My contribution will include helping with the construction of schools for the indigenous communities, improving their access to education and teaching them English. My Spanish will help as other members of my team won't speak it", added bi-lingual Toby.
Choosing to volunteer for Operation Raleigh was an obvious choice for Toby when it came to deciding what to do with his time between school and university. It was, the youngster told EWN, "the perfect match: a charity in a Spanish-speaking country with major plans to make a difference.
"I just knew it was the one for me."