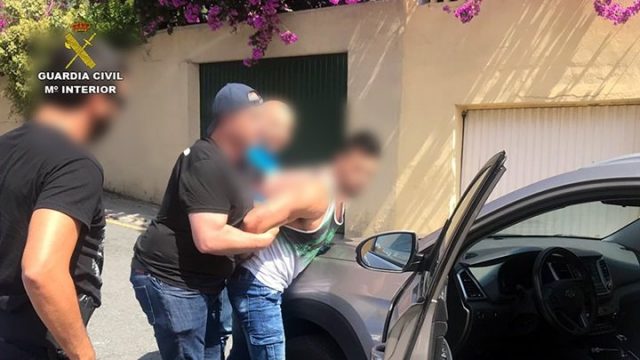 A MAN has been arrested for the alleged murder of a 78-year-old Belgian citizen, whose body was found last July in his home in Orihuela (Alicante).
Guardia Civil saw him driving through A Coruña in a car stolen from the deceased. They have also arrested a young woman accused of the crimes of concealment and continued fraud.
The lifeless body of the Belgian was found on July 4, 2019 in the garage of his home, located on Calle Carretera in Torremendo (Orihuela).
Guardia Civil investigators carried out a reconstruction of the hours before and after the death of the deceased, which finally allowed them to identify a suspect after three months.
The alleged perpetrator was arrested while driving a high-end vehicle owned by the victim, which he allegedly stole from him after his murder. He also allegedly stole several mobile phones and bank cards, with which he made numerous purchases, in the name of the deceased.
The detainee, a 29-year-old Spaniard, is charged with the crimes of murder, robbery with violence, continuous fraud and failure to provide help. The arrested man has already been placed at the disposal of Examining Court number two in Orihuela, which has ordered him to be remanded in custody.
Police have also arrested a 19-year-old Spaniard in the town of Hervás (Cáceres), as alleged perpetrator of the crimes of concealment and continued fraud.
A total of 18 witness statements have been made in the provinces of Alicante, A Coruña, Cáceres, Salamanca and Sevilla. Finally, five mobile phone devices, a high-end vehicle and two stolen license plates were seized, together valued at some €42,270.