A POLICE Special Operations Group team freed a woman four hours after the ex-partner took her hostage at her home in Leganes in Madrid.
According to media reports the aggressor, a Moroccan in his thirties, went to the top floor apartment early on Monday morning and got inside after threatening his 45-year old former girlfriend.
Also in the property were her two teenage children and her new boyfriend; he managed to get out.
Neighbours reportedly heard the aggressor shout at the woman he was going to kill her.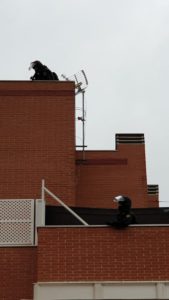 Special ops were called in along with a group of police negotiators. An hour or so later the man released teenagers.
While negotiations continued to reduce the tension, special ops officers positioned themselves at various points around the building and on the roof, choosing the right moment to break through the door. They used a taser gun to overcome and arrest the aggressor.
Police confirmed the man had been armed.
They also reported that the children were unharmed and their mother had suffered no serious injuries.
See more Spain News