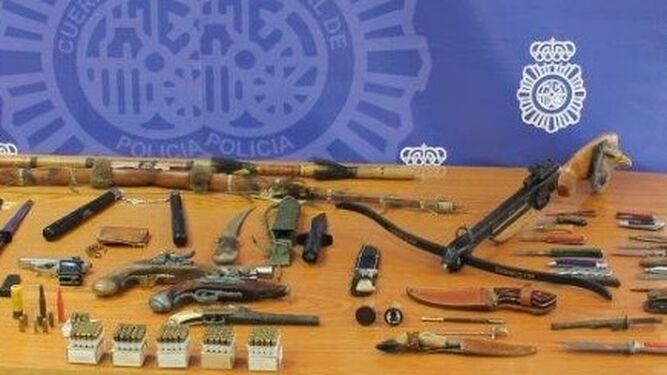 The National Police has arrested in La Línea de la Concepción (Cádiz) a man who exhibited a firearm at the hospital in this town and is accused of a crime of illegal possession of weapons.
In a police statement it has been disclosed that the detainee, who is 55 years old and lives in the neighbouring town of San Roque, had possession of many further weapons in his home including: crossbows, hunting knives, harpoons, machetes, antique guns and boxes of ammunition.
The events took place on 26 September at around 2:15 a.m., when security guards at the La Línea regional hospital alerted agents that a man had displayed a firearm.
Although the individual tried to hide the weapon when the Police agents arrived, the gun was located and found to be loaded with ammunition and ready to fire. The individual was subsequently arrested.
Posterior analysis revealed that the gun was a simulated weapon which had been modified for use with live ammunition.
The search carried out in the detainee's home also revealed that the antique firearms found had also been modified to use with ammunition.
On the completion of the police report, the detainee was placed at the disposal of Examining Court number four of La Línea.