TEULADA-MORAIRA'S Guardia Civil officers recently celebrated the feast-day of their patroness, the Virgen del Pilar.
The day began with Mass at the Virgen de los Desamparados church in Moraira that was attended by the officers' families and Ana Garcia, acting superintendent of the town's Policia Local force.
Also present were the municipal corporation including Teulada-Moraira mayor, Rosa Vila, and Public Safety councillor Maria Josefa Vidal, who congratulated force on celebrating its 175th anniversary this year.
There were also special thanks for the local officers and the great work that they were carrying out.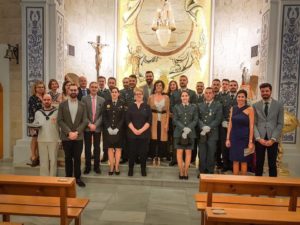 Mass was followed by an aperitif at the local Guardia Civil barracks where medals were presented to outstanding officers and a plaque of appreciation for collaboration.
This year's plaque was awarded to Javier Carrasco Zuluaga from Moraira's Club Nautico who was recognised for his "service, collaboration and dedication."
See more Costa Blanca North News