CALPE celebrated Valencian Community Day with its now traditional Jaume Pastor i Fluixa Awards ceremony.
This included an institutional manifesto stating that October 9 "invites us to consolidate Valencian society's social harmony, integration and cohesion mechanisms."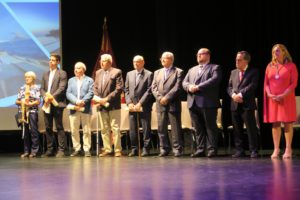 This was followed by the presentation of the awards, with the principal prize going to Calpe-born Jacinto Moragues Mauri.
With a doctorate in Physics, he is responsible, either individually or jointly, for 107 patents in Spain, four in the US, 18 in the UK and seven in Europe.
His best-known discovery is the aluminium and magnesium-based antacid, Almax.
The town hall makes several awards on Valencia Day, and this year's Villa de Calpe Sash went to the English-speaking ladies club MOFTAG, which was recognised for its fund-raising on behalf of social works and charitable causes.
See more Costa Blanca North News