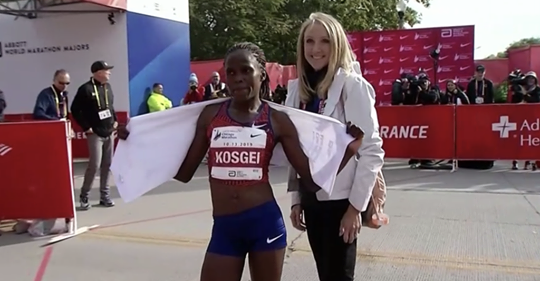 A RECORD that seemed untouchable for years fell away during the Chicago marathon yesterday.
Brigid Kosgei blew away the field in winning the Chicago Marathon on Sunday and setting a women's world record: 2 hours 14 minutes 4 seconds, a massive 81 seconds off Radcliff's record that had stood since 2003
Kosgei's run came little more than 24 hours after fellow Kenyan Eliud Kipchoge became the first man to run the marathon in less than two hours, clocking 1:59:41 in Vienna.
Unlike Kipchoge's performance, however, Kosgei's mark was set in an official race on a record-eligible course.
Radcliffe first set a world record at Chicago in 2002 before besting that mark a year later in London.
"It was 17 years ago exactly today that I set the first world record here in Chicago," said Radcliffe, who attended Sunday's race.