A festive affair
BENIJOFAR'S feria representatives dressed up in their finest to make the short trip to Benejuzar.
There they represented the town in the Virgen del Pilar festivities, that attracted thousands of people from across the region as the pilgrimage celebrated its 80th year on Saturday.
The day of celebration, which coincided with the Dia de Hispanidad, saw devotees gather in the church square, where the image of if the Virgen del Pilar was waiting.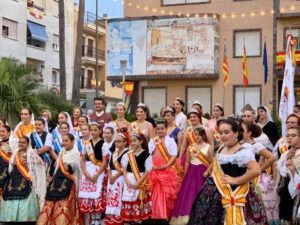 Amongst many cheers, rockets, balloons and 200 doves from neighbouring Bigastro were released, with Benijofar's representatives playing a full part in the festivities.
Afterwards, the Virgen del Pilar, was carried in pilgrimage before mass was celebrated.
Many towns in the region have the Virgen del Pilar as their patron saint. Saturday was a big day in Pilar de la Horadada and Los Montesinos and there were also celebrations in Orihuela and Catral.
Although the day began under threatening clouds the weather held off to allow the proceissions from mine end of the Vega Baja to the other.
See more Costa Blanca South News