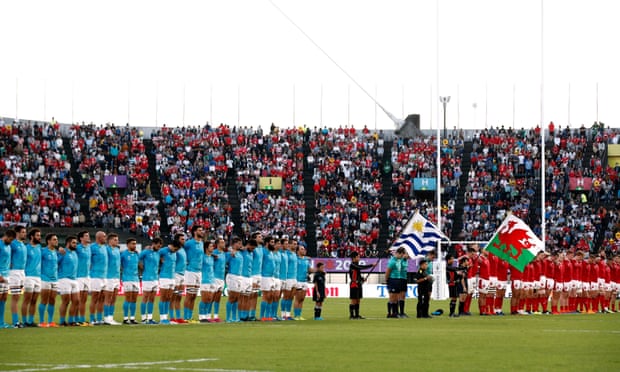 The game got underway at the Kumamoto Stadium. Wales took the kick-off after ref today Angus Gardner blew his whistle.
A couple of sloppy passes from Wales, as they attacked on the right. The ball broke nicely for Josh Adams though and he burst through the defensive line. Then Wales spun it left and found yet more space in an Uruguay defence that was already being stretched all over the place. But again, there was a handling error by Wales, and Uruguay had a five-metre scrum. Gatland head Welsh coach was annoyed by the handling errors early on and shook his head in disbelief.
Ten minutes in the game went to TMO as Shingler went over for a try in the corner It looked like he may have put a foot in touch but the ref after watching the video playback ruled out the try for offside.
14 minutes into play saw tackle after tackle after tackle by Uruguay. It was impressive defending. Vilaseca put in one of several try-saving tackles in the last phases of play. Now the ref said to Gaminara, the captain next time it's a yellow card. They had been offside, they had been slowing the ball down, but they had successfully kept Wales out so far.
18th minute though saw Wales breakthrough and score their first try as Nicky Smith went over, Wales scored the conversion so 7-0 to Wales went up on the scoreboard.
Penalty advantage was given for Uruguay after Wales came in from the side. Freitas crashed into contact in midfield, and the crowd roared as Berchesi then sprinted clear on the right-wing. Although it was a forward pass to the No 14, and the ref brought it back for a penalty, and Uruguay went for goal and scored bringing the scoreline back to 7-3.
Wales then played lovely hands on the left and Wales were over the try line through Hallam Amos. TMO again checked for a forward pass and it was disallowed.
Gatland's defensive body language was something to behold. Arms were constantly folded, he was motionless up in the stands. Certainly, there wasn't much potential quarter-final opponents would be afraid of on a poor showing from Wales in the first 35 minutes.
It went to a one-point game as half time neared as Uruguay took a penalty on 38 minutes and saw the half time score go to 7-6.
Second half resumed no doubt with harsh words in the Welsh dressing room, as Berchesi kicked off.
Wales won a penalty early, in a central position, and Halfpenny kicked it and he hit the post. Nothing seemed to be going right for Wales after the restart. Coach Gatland had made 13 changes for this game but it did not look the new players had the skills of their squad counterparts who were being rested.
Although shortly after a good score from Adams in the corner after Bradley Davies went nearly in under the sticks. They spun it left, with Wainwright, Parkes and Adams all queuing up to score and then made the conversion to increase the score to 14-6 after a panic-stricken first half.
Wales started to go up a gear, the half time talk seemed to have worked by coach Gatland.
On 55 minutes Dotti performed a high tackle for Uruguay, and a penalty for Wales lead to an attacking line-out just a couple of metres from the line. A couple of thunderous carries by Wales, but Uruguay were simply having none of it, and again produced a couple of phenomenal tackles. Dee drove for the line, near the posts, and then there was space again on the left. Amos crossed for the try but yet again it was a forward pass by Parkes and it was no try. Every time Wales seemed to get a bit of momentum they slipped up. That was 10 handling errors for Wales in 55 minutes.
Good pressure from Wales on 65 minutes saw a good drive towards the line, and Uruguay coughed up a penalty try as Wales increased to 21-6.
Shortly afterwards For the first time in a long time, Uruguay attacked. A lovely little chip kick by Freitas over the defensive cover, on the left-wing, and then there was plenty of support on his inside. James Davies pulled off an excellent tackle, but Uruguay won a penalty and kicked for the corner what saw a tremendous attack bringing about a tremendous try.
Wales then responded as they streamed down the left-wing and Tomos Williams dived over after a nice flat pass from Hadleigh Parkes found a couple of team-mates in space. The conversion took the score to 28-13.
With 4 minutes remaining, Amos went over again, in the left corner, but it looked like a forward pass yet again and was ruled out for a dropped ball by the TMO.
At the death Bonus point for Wales was secured. A quick tap by Davies on the right, from halfway. He cut inside and made mincemeat of the Uruguayan defensive cover with his pace and his lovely footwork. Halfpenny banged over the conversion.
Wales won Pool D with four wins from four and set up a last-eight meeting with France in Oita.
It was an error-strewn performance from Wales, handling the ball as if it was a roasting hot potato, rather than their best friend. Uruguay, by the way, had made over 200 tackles. It was a truly inspirational performance from them despite the scoreline.
Final Score Wales 35-13 Uruguay.