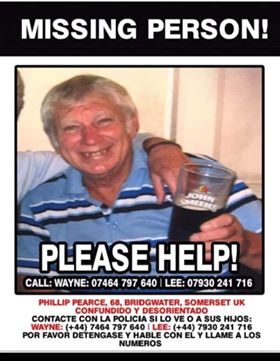 Phil Pearce is 68 years Old and has been missing from Benidorm since the 10th Sept.
He is in the early stages of Dementia and went out to buy tobacco on the 9th at around 5pm. He was seen a little later by a kind holidaymaker who realised Phil was confused and disorientated.
He didn't know where he was staying or where he lived in the UK all he said was he was " Phil from Bridgwater " he had no ID on him either.
He was later taken to the Police Station in the Old Town of Benidorm where he stayed until he was released at 3am.
No one has had any positive sightings of Phil since.
His sons Wayne & Lee are constantly visiting Benidorm to arrange search parties to search for their dad. Its like Phil has just vanished into thin air.
Posters have been put up all over Benidorm, and in the first few weeks lots were getting taken down. I cant imagine what state Phil must be in, he must be really scared and confused.
Here is a photo of Phils passport Pic and another pic of what he may look like now.
5 weeks is a long time for him to be missing. so he maybe unshaven, thin and appear dirty.
The family are not sure what clothes he may be wearing now either.
If anyone sees Phil please Ring 112
his family are so desperate to get him home, they are heartbroken.