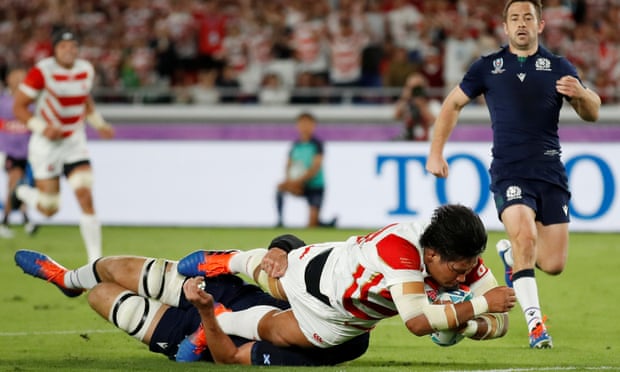 Every face had all the neutral expression of 30 men in a queue for airport check-in, as they were greeted with noise, music, drums and expectations from both sets of fans.
But first, there was rightfully a minutes silence to remember those lost in the typhoon that hit Japan this week.
Ref Ben O'Keefe gave a loud blast and Japan took a short grubber kick-off that Scotland knocked on. Japan were straight on the attack, but Allan Dell got over the ball in the ruck that won his side a penalty.

Stuart Hogg, with his freshly shaven head, launched a penalty into touch and Scotland had another attacking lineout on the Japan 10m line. It was won cleanly at the tail and Bradbury got his first powerful carry in. It worked left then back inside for Russell to very nearly find Graham with a raking cross-kick, but Japan snaffled it only to lose it again and put Scotland back on the attack on the 5m.

Finn Russell came on the in-to-out angle around the ruck and went over. Laidlaw adds the extras giving Scotland a 0-7 lead against the hosts.

Japan went straight back on the attack, and we must not forget they went behind early vs Ireland and didn't panic.
Scotland knocked it on just inside their own half for the first scrum of the game.

Japan were on the attack 15 minutes in around halfway and they were getting their familiar recycling rhythm going, and in his attempt to get up and slow it down, WP Nel was penalised for a torpedo style tackle on the legs of Horie.
Yu Tamura pointed at the posts as the ground fell silent but missed.
18 minutes saw Japan back in the game, Fukuoka received a miss pass from Lafaele on the left touchline, he gassed up the line and got away with an outrageous one-handed offload inside to Matsushima as he was hooked by Harris.
Tamura added the conversion to level the score 7 points each.
26 mins saw Horie carry the ball hard into contact and offloaded the ball to Labuschagne who found his pack pal Inagaki out of the tackle to ground it under the posts. Tamura converted and Japan took the lead 14-7.

Japan were on fire whilst Scotland were struggling to structure their defence against the constant attacks.
Japan missed a penalty on 38 minutes but just after 2 minutes later Japan worked it left in midfield to Lafaele who dinked a beautiful little grubber-chip through for Fukuoka to gather and score around the covering Hogg.
Tamura slotted the extras as the teams went in for half time 21-7 with Scotland looking in trouble as the first half drew to a close.
Second half got underway Finn Russell sent it left and Scotland recovered their own kick-off and had some ball, which already made a change from the first half. They got backwards in the face of aggressive japan defence, but they were offside. Scotland had a penalty and put it out for a lineout.
On 43 minutes Japan were reading Scotland's attacking patterns like they had hacked into their mainframe, covering each pass with an aggressive rush defence which eventually forced the ball to pop out and Fukuoka was given a clear run for the line.
Yamura converted Scotland were deep in the misery zone now as Japan led 28-7.
On 49 minutes Jamie Ritchie broke the line, he was through on Tupou but tripped when attempting a sidestep, but Scotland were on the attack on the Japan 5m line for the first time in a while. A minute later WP Nel took a pick and go from short and the prop went over for a try. Russell kicked the conversion pulling back the score to 28-14.
At this stage, Scotland needed to get to 35 points and hope Japan did not score again.
As a start to achieving this, they emptied most of their bench. George Horne, Blair Kinghorn, Stuart McInally, Gordon Reid, Zander Fagerson, Scott Cummings all came on the field.
Allan Dell, Fraser Brown, Willem Nel, Grant Gilchrist, Laidlaw, Seymour are all off.
It had some impact as Russell threw a lineout to himself and set George Horne free and up to the Japan 22. Cummings and Gray carried it up to five metres to feed Fagerson to touch down.
It was converted by Russell to pull it back 28-21.
68 minutes saw a mass brawl as Japan won a penalty after clamping on at the breakdown. Jamie Ritchie took exception and we had the usual 2o seconds of players gripping each other and stern looks, but it was not more than that. To be fair to Ritchie, Tamura the out-half pushed him, and no forward worth his salt will stand for that from a back, least of all a half back.
Japan remain organised with 10 minutes left but there was a bit less zip now as if they were clock watching as Scotland needed 2 tries and a conversion to qualify, 50 million Japanese armchair fans were glued to their seats cheering on the hosts as well as the huge crowd.

The final whistle shortly blew after some magnificent defending by the Japanese and a nation roared after just having their country torn apart by the devastating typhoon.
Scotland are on their way home. Japan made history, with South Africa next to come in their first quarter-final.