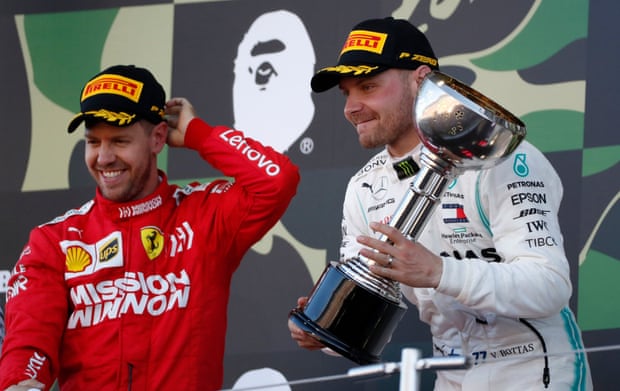 It was a terrible start for pole-sitter Vettel, who was immediately passed by Bottas. Wing damage occurred for Leclerc after a tussle with Verstappen, who spun off the track. Leclerc dropped into third but was staying on the track despite reporting damage to his team. It was an incredible opening to the race.
Leclerc was being encouraged to stay on and see how he goes. Bottas kept his lead from Vettel, Leclerc and Hamilton.
Hamilton was complaining of his vision being affected by the wing damage of Leclerc. The champ couldn't believe the Ferrari driver wasn't ordered off the track.
Leclerc went off to the pits eventually which promoted Sainz to fourth. There was no investigation into the coming together between Verstappen and Leclerc, much to the former's ranting on the radio.
Stewards then changed their minds and there was an investigation launched.
The two Mercedes were clocking the quickest laps with Vettel in between them. Leclerc was up to 15th, weaving his way through the field.
Lap 15 saw Mercedes get on the radio to Hamilton. They thought Vettel would be pitting soon and they indicated they may make a strategic pit stop themselves. Verstappen went out of the race after that early collision with Leclerec.
On lap 19 Vettel zipped past Sainz into third place following his pit stop. Hamilton, who had not stopped yet, lead Bottas by 6.8 secs and Vettel by 10.8 secs. after their pit stops.
Ricciardo was driving very well in fifth after starting from 16th on the grid with medium tyres.
22 laps in Hamilton went in the pits, his tyres were deteriorating rapidly. The Leclerc-Verstappen collision the stewards announced would be looked into after the race.
10 laps later saw The top seven drivers all on the medium tyres. Hamilton was reporting that his tyres were still good. Bottas was 13.3 secs out in front, with Vettel 20 secs back in third after yet another pit stop.
Leclerc was driving like a man possessed after his early incident and was now in seventh place.
Bottas headed into the pits on lap 37. It was nice work by the team and he resurfaced back on track still in front of Vettel. Bottas was just under 10 secs behind Hamilton after the pit stop.
"Tell me what I need to do to win this race," Hamilton asked his team over the radio. Beat your teammate, was the reply with Fifteen laps to go.
Mercedes needed to outscore Ferrari by 14 points to secure another constructors' championship and as things stood they were on track.
Leclerc talked to his team, saying he didn't want to pit as Hamilton looked to finish the race on soft tyres. Vettel was on the mediums and Bottas was leading by 10.5 secs.
45th lap Hamilton now owned the fastest lap of the race and was closing on Vettel with a 1-2 Mercedes finish in his sights and a constructors championship for his team Mercedes.
Hamilton though just couldn't get past despite getting less than a second behind as his tyres were shot to bits.
"Oh, oh, oh yeees!," Bottas said down the radio to his team as he met the chequered flag.
That fast start from third on the grid, where he overtook pole-sitter Vettel at the first bend, was decisive. And he never looked back. Mercedes won their sixth consecutive constructors' championship. Ferrari owned qualifying, but it was all Mercedes when it was showtime!