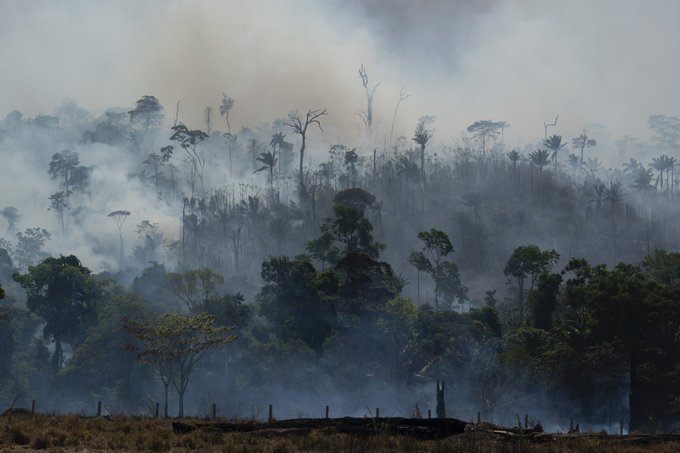 Just two months ago, the whole world reacted in shock as vast areas of the Amazon rainforest burned mercilessly.
According to reports, over 10,000 individual fires were recorded between August 15 and August 23 destroying vast areas of the Earth's largest tropical habitat.
Statistics gathered by Inpe, Brazil's satellite agency, suggest that at least 7,747 sq km of Brazilian Amazon rainforest have already been cleared so far this year.
Ane Alencar, the science director of the non-profit Amazon Environmental Research Institute (IPAM), believes the true figure is likely to be at least 30% higher, making it the worst year since 2008 for Amazon deforestation in Brazil.
Although deforestation fires are common in the Amazon, 2019 saw an incredible 77% increase in deforestation since the same period in 2018.
Though common, they are however generally illegal but the Brazilian government came under extreme criticism for their lax approach to this years destruction.
Whilst the Amazon vegetation burned, all eyes were on the government leaders and how they dealt with potentially the biggest environmental crisis in modern history.
After coming under global pressure, the Brazilian government sent in army personnel to assist with the fire control and issued a 60 day ban on any more deforestation fires being lit.
Although the bulk of the burning has subsided thanks to the fire ban, fires still burn throughout parts of the Amazon to this day and will continue until the annual rainy season hits the area in November.
Whilst the attention was firmly glued to the Amazon, environmentalists grew concerned over the increasing deforestation taking place in the nearby Cerrado Savannah, "one of the most endangered ecosystems on the planet" according to the WWF.
The Cerrado was not subject to the same ban on fires enforced on the Brazilian Amazon so between August and September, the number of fires in the savannah increased by 78% to 22,989.
It was not only Brazil that suffered crippling fires either, Bolivia and Paraguay continue to burn under the relentless threat of deforestation.
Thank fully the region is setting in for its wet season which will see an end to the already burning areas, as well as a stop to further deliberately set fires.