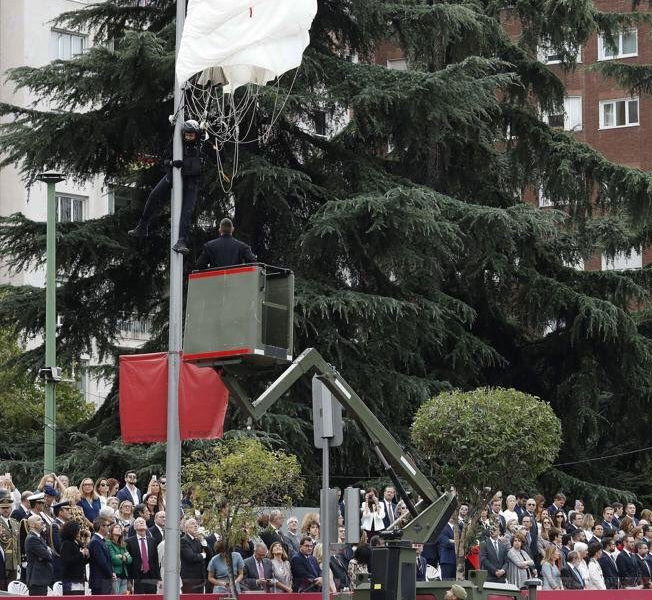 AN experienced paratrooper has collided with a lamp post whilst delivering the Spanish National flag during Madrid's National Military Festival Parade.
As is customary during the parade, the National flag is flown in by a member of the Parachute Brigade (Bripac) and hoisted in front of the Royal Box.
However this year, first corporal Luis Fernando Pozo experienced difficulties and collided with a over head cables close to the landing area, becoming tangled in his parachute ropes.
After a few minutes he was rescued by emergency officials in a cherry picker to the resounding applause of the crowd.
The floor is lavaaaaaaa!!!! #paracaidista pic.twitter.com/cxOTI1PZ2F




— Jesús Maturana (@matutweet) October 12, 2019
The first corporal, who has a long experience with 600 parachute jumps, suffered no injuries from the incident but was taken to the nearby medical centre for checks.
The Royal Family, the President of the Government and other dignitaries who attended the military parade of the National Day were seen consoling the paratrooper after he was lowered to the ground.
The head of the Defence Staff, General Fernando Alejandre shared encouraging words with Pozo, visibly supporting him with an affectionate gesture, whilst the President of the Government took to social media to announce that, "we are glad that everything has remained a simple incident."