KENYAN marathon runner Eliud Kipchoge has smashed the two hour marathon record by over twenty seconds in an epic attempt in the Austrian capital of Vienna this morning.
Using sophisticated technology and a 41 strong pace making team, he completed 4.4 laps of the 9.6 kilometre course in record time, becoming the first runner in history to beat the two hour barrier.
The 34 year old Kenyan ran alone but used a rotating team of 41 pace makers to accompany him through the race including previous Olympic and world record holders.
He completed the first 21 kilometres in 59.35 minutes, 11 seconds under the two-hour pace, and with spots of rain towards the latter stages meant he had to push deeper to maintain the pace towards a final time of one hour, 59 minutes and 40 seconds.
To help him maintain the spectacular pace he used a pace car with a high tech laser marker, calculated at the exact pace he needed to keep.
He also used his 41 strong colleagues in a seven man teams to run alongside him, pushing him to keep up the pace.
Upon crossing the finish line, Kipchoge was greeted by his wife Grace, and was embraced by his team mates.
This weekends record was funded by British billionaire Sir Jim Ratcliffe, through his company Ineos and in collaboration with sports company Nike.
During the run, he was wearing a revolutionary new Vaporfly marathon shoe containing space age materials and a controversial carbon fibre plate in the sole, said to improve times by over 1%.
The attempt in Vienna wasn't his first attempt at breaking the two hour barrier. Two years ago he made the attempt but missed out by only 26 seconds.
He also holds the official world record of 2:01.39 at the Berlin Marathon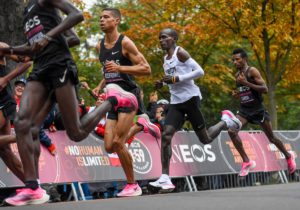 last year and is current Olympic Champion.
The IAAF have praised Kipchoge for his efforts but will not officially recognise his time as an official world record as it was not held in open competition and uses rotating pace makers.
Despite this, the Kenyan has likened his achievement to one of sport's great unconquered frontiers.
'I was able to show to the world that when you focus on your goal, when you work hard and when you believe in yourself, anything is possible.' Explained the Kenyan after his epic achievement.