The country is already feeling the effects of torrential rainfall and high winds with many areas flooded and the tornado like winds already claiming their first victim.
Winds of 180km/h (111mph) have wreaked havoc on the island of Honshu already, toppling a vehicle killing the driver in the Chiba area east of Tokyo.
Hagibis, which means speed in the Philippine language of Tagalog, has so far been centralised over the Pacific, but is due to make land fall this evening.
The Japanese Meteorological Agency has warned that this could be the strongest storm the country has faced since Kanogawa Typhoon in 1958, which left more than 1,200 people dead or missing.
Flights have been cancelled and train services have been postponed and concerned residents have been stockpiling provisions, leaving supermarket shelves empty.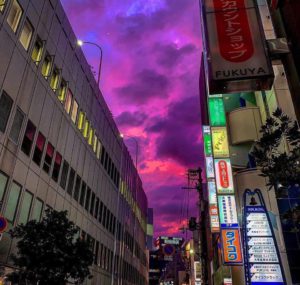 Major sporting events due to take place this weekend have also been cancelled including the Rugby World Cup and the Japanese Formula One Grand Prix.
The east coast of Japan is already reeling in the after effects of last months Typhoon Faxai that damaged over 30,000 homes, most of which have not yet been repaired.
A region wide evacuation order has been issued to the Tokyo area and evacuation centres have been set up to shelter the residents during the worst of the weather.