SIXTEEN divers removed 1.6 tons of rubbish from Altea's fishing port and beaches.
The initiative was a joint operation by Altea town hall's Environment department, the Club Nautico, the Fishing Guild, Algar Servicios Nauticos and the multinational company, Indra.
Once the 1.6 tons of refuse was on dry land, Environment councillor Jose Orozco summed up the operation as "very positive" as he contemplated discarded tyres, glass bottles, plastics of all types, tools and even a jack for moving pallets.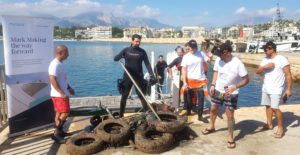 All the removed objects will, as far as possible, be recycled, he said.
The recent clean-up of the River Algar between the railway bridge and Sogai, which removed 279 kilos of rubbish from the river and its banks, will be followed by another, Orozco announced.
The Environment department is organising this on October 27 with collaboration from the Club Ciclista Altea, with volunteers this time concentrating on the section of the Algar that crosses the Mandem district.
See more Costa Blanca North News