This week Celebrity & Fellow Master Chef Steven Saunders, proprietor of The Little Geranium in La Cala has dinner with Richard Branson dressed as Elvis!?
I WAS looking at some old photos over the weekend and came across one of me dressed as Elvis Presley.
It was at a party that I was invited to at Richard Branson's home in Oxfordshire. It was the first time that I had been invited to one of his parties so you could say I was a Virgin!
I will never forget sitting in a long queue of cars that were dropping off guests to the side entrance of Richard's house. The house had a marquee attached to it so guests didn't actually see much of the house itself, but there were at least 300 people there.
I could see everyone getting out of the cars dressed in black tie. I panicked a little as I was dressed up as Elvis!
"Let me check the invite" I said and there at the bottom it clearly said Las Vegas Fancy Dress or Black Tie.
The party was to celebrate Virgin Airlines' successful contract as partners in Las Vegas, meaning that you could now fly Virgin to Las Vegas, not only with British Airways.
It seemed obvious to me to dress up and Elvis stood for everything that Las Vegas was, so I thought it appropriate. When we got to the door there was Richard Branson welcoming everybody with his wife Joan.
He looked at me smiled and said "Hello Steven!" As if he was not surprised, because I was totally the only one in fancy dress!
Guests came over to me and asked what time I was on… assuming that I was the entertainment! I sat next to Laurence Llewelyn-Bowen, the eccentric designer who did Changing Rooms, makeovers and redesigning home interiors and on the other side was fashion model Jodie Kidd.
I enthused about what I really love doing, cooking! I had been pitching to Richard Branson to create the food on Virgin airways to Las Vegas offering clients something totally different that at the time had never been done before like perfectly cooked Lobster tails Thermidor followed by sousvide rare Charlois beef with foie gras.
I enthused to the Virgin Board that Virgin Airlines is a world class brand and deserves world class food. Richard agreed but said that he needed to do good food, but use cheaper ingredients.
"Good luck," I replied and I left the meeting. So the bad news was that my lobster tails with reduced lobster syrup and sousvide fillet with wild mushrooms, smoked black garlic and foie gras foam were not on Virgin Airlines.
The good news is that they are on my current menu at The Little Geranium and so if you fancy trying these superb dishes, just go online to book.
Alternatively you could start off by making the lobster dish at home, here is the recipe!
Steven Saunders's opinions are his own and are not necessarily representative of those of the publishers, advertisers or sponsors.
---
Lobster tails, Thermidor glaze & Lobster syrup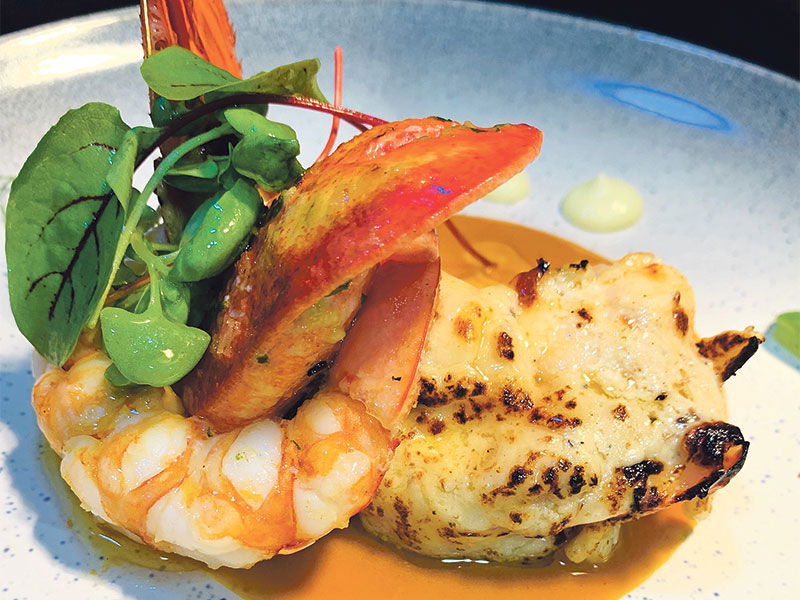 NOTE: The little lobsters I buy are ideal to serve half a lobster as a starter. For a main course you will need to serve the whole one. When the lobster is smaller the flavour of the meat is far sweeter.
Ingredients for four
2 freshly cooked lobsters weighing approx 600-700g
300g of Gruyere cheese grated
150g of parmesan cheese grated
50g salted butter
250 ml of fresh thick cream
1 onion peeled and chopped
3 cloves garlic peeled and chopped
1 tablespoon of English or Dijon mustard
1 teaspoon of truffle pieces
1 tablespoon brandy
Maldon salt and white pepper
Method for the white sauce
Simply reduce the cream with the garlic, onion and mustard
Add half of both cheeses and stir well in until it is thick
Add the butter and stir in
Pass the sauce through a fine sieve and now add the truffle pieces and the brandy, season and reserve the sauce
Method for a basic lobster stock
Lobster shells left over
2 tablespoons of tomato puree
1 onion peeled and sliced
1 stick celery chopped roughly
1 small leek washed and roughly chopped
4 cloves garlic peeled and crushed
2 pieces of star anise or one tablespoon aniseed seeds
2 bay leaves
1 litre of shellfish stock or fish stock
200ml of thick cream
50g of salted butter
Note: You will need to make a lobster stock/bisque with the ingredients above using up all the left over shells and any left over pieces of lobster and the heads.
Put shells and bay leaf into a deep sauce pan with the garlic cloves and chopped onion, leek and celery on low heat, stir well. Add the tomato puree and shellfish or fish stock to totally submerge the shells and add the star anise.
Cook and reduce this liquid by half. Now add the cream and stir in. Simmer on a low heat for 10 mins. Pass through a sieve and finish with a little butter, whisk in and season.
For the lobster syrup
Lobster stock / bisque (above)
1 tablespoon of good honey
2 tablespoons of brandy
25g of salted butter
Juice of half a lemon
Seasoning
Firstly reduce/boil the passed lobster stock sauce that you have made
Add the honey and butter and the lemon juice and reduce again
After a few minutes on a high heat it should start looking syrupy
Taste and adjust seasoning and pass through a fine sieve
Reserve
To cook the lobsters
If you are cooking your own lobster it is important to put the lobsters to sleep before cooking them by putting them in the freezer for about two hours.
Cook them one at a time to maintain the heat of the water. Put some lemon pieces and salt in the water and when boiling rapidly drop in the first lobster.
When the water comes back to the boil (usually one minute) then leave for two minutes and remove with a slotted spoon and immediately refresh (shock) in ice cold water.
Now you have your cooked lobster, cut the head off, then cut the lobsters in halves, remove the claws and remove the meat from the claws. Remove the lobster body flesh, clean and wash and place back into the shells.
You now have four lobster tails and four lobster claws.
Now spoon the truffle white sauce over the lobster body meat and sprinkle with the remaining Gruyere and Parmesan cheeses.
Bake in a pre-heated oven 200ºC for five/seven minutes until golden brown. You can add a little more cheese at the end and grill or blow torch to evenly colour, if it needs it.
Take a small ladle of the lobster syrup sauce and spoon neatly in the centre of each plate (see photo).
Place the lobster tails on top and the claws.
Garnish with micro cresses and drizzle with a little truffle oil and serve.
Follow Steven on Instagram … saunderschef – Email any questions … steven@thelittlegeranium.com
The Little Geranium, Winner of Best Contemporary International Restaurant 2019-Costa Del Sol – www.thelittlegeranium.com