On the 14th and 15th of October, in the Palacio de Congresos of Marbella, the environmental charity event TOWARDS NATURE will be taking place, aimed at students so that they become more aware of the climate changes affecting the world and are empowered to do something about it.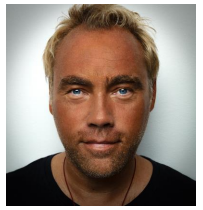 Marbella, 8th of October 2019.- At a time when the environmental crisis has become a reality, it is increasingly important to educate ourselves and to begin to take measures so
that the youth of today react and become proactive in protecting the environment and in conserving biodiversity. Now more than ever, a change in thinking is needed for the generations to come.
The best and most important inheritance we can leave being in a world in which one can live in, because Earth does not belong to humans; it is us who belong to the Earth.
The organisers of this event are aware of the importance of this which is why they want Marbella to participate in TOWARDS NATURE, giving everyone a unique opportunity to get close to nature through the experiences of Johan Ernst Nilson.
This will be an unforgettable opportunity to learn about the ecological risks facing Earth, through the exceptional testimony of Johan who has travelled and explored the globe seeing what is happening with this own eyes.
Johan is an influential activist when it comes to protecting the environment, defending the planet against climate change. He educates and inspires the population about these topics through his coaching and motivational speeches that he gives around the world, inspiring over 100,000 people.
Johan dedicates 50% of his time to charitable institutions and non-profit organisations. Guided by his adventurous spirit and his unconditional love of life Johan has travelled to over 170 countries and is in the Guinness book of Records. The most impressive thing about Johan is the power of positivity that is transmitted by his messages, they reach the heart of all who listen to him and his message is clear: "As long as I keep on trying, you could never say that I failed."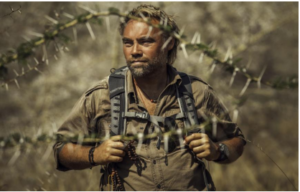 Marbella will have the honour of hosting Johan with his larger than life personality on the 14th and 15th of October in the Palacio de Congresos. An event that is being aimed at all the students along the coast so that they come accompanied by their parents or guardian to hear first-hand about the problems facing the world and to find out what they can do to help stop this problem and how to work together as a family to create a better future for everyone.
This was how the event was presented at this morning's press conference by the Director of Culture Carmen Díaz, the Director of the Environment Victoria Martín Lomena together with the event organiser Alexandra Kondrashova as well as Javier Pérez Benedí from MarbellAyuda.
Both Carmen Díaz and Victoria Martín Lomena highlighted the importance of an initiative such as this; "To have someone like Johan Ernst Nilson come to Marbella is a huge opportunity," declared the Director of Culture. Victoria Martín Lomena also talked about the climate crisis; "We are facing a climate emergency and there is no one better than the youth of today to find the solution to put a stop to it. They are the ones with the most awareness about this crisis, 48.8% of children see climate change a very real social problem." Javier Pérez Benedí told those present about the project being carried out by foundation MarbellAyuda for the Costa del Sol Hospital, although he as well
stated what he believes is the real objective of this event; "The importance of this event is not just to raise funds for charity which is always important, it is to increase our awareness about the global environmental crisis we are facing and if we do not halt, by the year 2100 Earth will of ceased to exist."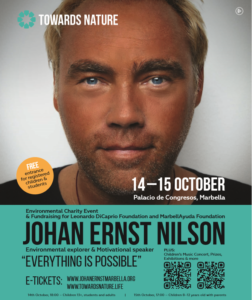 The event has been organised by the environmental Foundation "Goodwill Meridian" together with the agencies Events Couture Marbella and MN Comunicación, the Marbella Town Hall has also given its support along with, Garcatri Deluxe Transport, Marbella Club Hotel, Gestoria Bocanegra, HSE School of Art and Design, Calidad Pascual, "Doss by Da Bruno", "Reprofast" and "Aguaencajamejor". All the funds raised are being donated to the Foundation MarbellAyuda with its program of renovating paediatric area in Hospital Costa del Sol and to the Leonardo DiCaprio Foundation with its Climate Change program. Students have free entry to the event and the price for adults is €10. The lectures
are taking place in English.
On Monday, 14th of October it will run from 6:00pm – 8:30pm and is being aimed at students over 13 years old and adults. On Tuesday, 15th of October, it will run from 5:00pm – 8:30pm and will be aimed at children between 8-12 years old with adults.
In order to attend Towards Nature event must sign up on line via the following:
www.towardsnature.life and www.johanernstmarbella.org