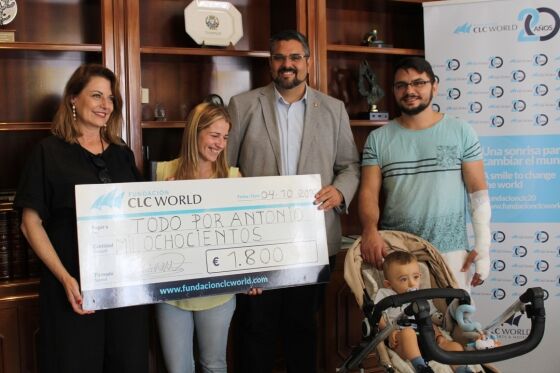 Helping little Antonio
CLC World Foundation has donated €1,800 to Antonio, a 15-month-old boy from Mijas who suffers from congenital muscular dystrophy.
This will allow his family to cover the costs of the rehabilitation therapies he needs for the next three months.
Mijas Town Council had asked the foundation for help when it became aware of Antonio's plight.
A cheque was handed over at a ceremony presided over by the mayor of Mijas, Josele González, together with representatives of the Foundation.
The mayor said: "We must thank CLC World Foundation for this contribution. They did not hesitate for one minute to make this donation."
Antonio's mother, Raquel Berlanga, thanked the foundation for its gesture: "We are very grateful for this help, it will help us move forward and is another little push for Antonio to carry the disease in a quieter way.
"We would like to thank institutions such as the town council and the CLC World Foundation, who help us on a day-to-day basis and also the people in the street who are also collaborating."
She explained that "Antonio is going through a quieter phase than last year; at respiratory level he is doing quite well; at motor level he is a little delayed because of the nasogastric tube he has had for five months; and at digestive level it seems that things are going much better. We are noticing the changes, he moves more, he has started talking, and he can now stand up."
See more Costa del Sol News