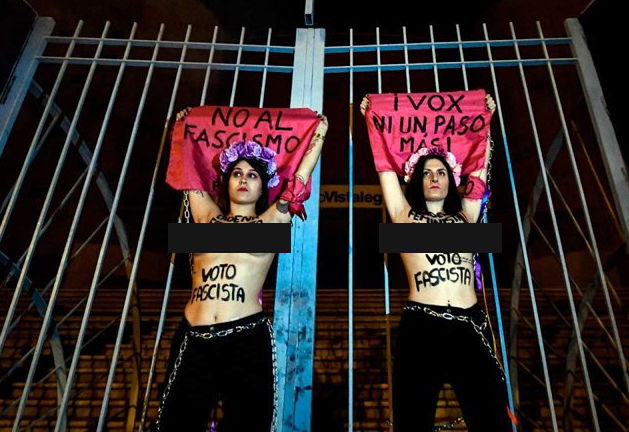 FOUR Protestors from the FEMEN organisation have been arrested after staging an all night protest ahead of the far right Vox Party rally.
The women had chained themselves to the gates of the Vistalegre Palace in Madrid to express their disagreement with the "fascist, racist and homophobic" policies of the right leaning Vox party.
Policia Local agents cut the chained woen free and they were searched by female officers before being taken away to local police headquarters.
One of the four activists involved in the protest, Lara Alcázar, explained that their intention was to take part in a peaceful protest to express to Vox leaders that they "cannot go a step further" and that their ideology "threatens democracy".
The rally was in honour of the tenth anniversary of the induction of the Vox party and to also announce their manifesto leading up to the elections on November 10.
Party leader, Santiago Abascal hopes to attract more than 12,000 supporters to the event, which follows on from their party slogan "Plus Ultra".
Doors opened on the event at 10am this morning but the main conference started at 12pm and will carry on into the evening.
In attendance at the rally are Santiago Abascal, the general secretary of the party, Javier Ortega Smith; the spokesman in Congress, Iván Espinosa; and the president of the Vox in Madrid, Rocío Monasterio as well as party members from the Alliance of European Conservatives and Reformists (ACRE).