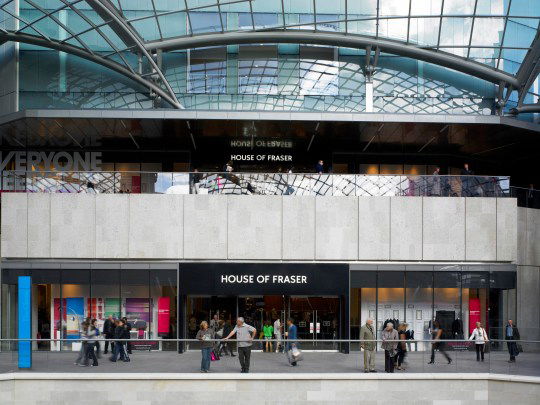 Mike Ashley's Sports Direct is reportedly planning to shut down almost all House of Fraser stores once the Christmas trading period comes to an end.
According to the Sunday Telegraph, Sports Direct is either not paying rent or preparing to end the leases on most of its 50 or so remaining stores in across the UK.
This apparently makes it easier for Mike Ashley to finish his association with the department store.
Sports Direct bought House of Fraser out of administration for £90 million last year in August.
At the moment, Ashley's retail empire took control of 64 sites, including three offices, two warehouses and 59-strong store estate.
While a handful of House of Fraser stores have shut down since Sports Direct's takeover, gossip has been rife that more closures were to be expected this year.
The Financial Times at one point reported that two-thirds of House of Fraser stores could go.
In its full-year report published at the end of July, Sports Direct admitted that House of Fraser was in terminal decline and that more stores may need to close.
Sports Direct also didn't provide financial guidance for House of Fraser for the financial year ahead and admitted it would have thought again at acquiring the department store.
On its own, House of Fraser recorded a full-year operating loss of £54.6 million on the back of revenues of £330.6 million.
"We have found that the problems are nothing short of terminal in nature," Ashley said at the time.
Just weeks after the full-year results, creditors extended House of Fraser's administration for another year.
Ashley has also previously indicated his plans to close several House of Fraser stores as he prioritises plans to launch Frasers, an upmarket spin-off from the brand.
Last week it was revealed that Sports Direct was due to unveil its new Frasers concept via a 94,000sq ft flagship in Wolverhampton's Mander Centre.
Frasers will move into the unit that will be vacated by Debenhams in January 2020, as part of the latter's own CVA plan.
Currently, the House of Fraser flagship in Glasgow operates under the Frasers name, so the new Wolverhampton store is expected to be the start of a rollout for the upmarket fascia.
Previous reports have suggested that Sports Direct is eyeing somewhere between 15 to 31 House of Fraser stores that could receive millions of pounds of investment over the next five years in order to relaunch the department store chain and take it upmarket under the Frasers brand.