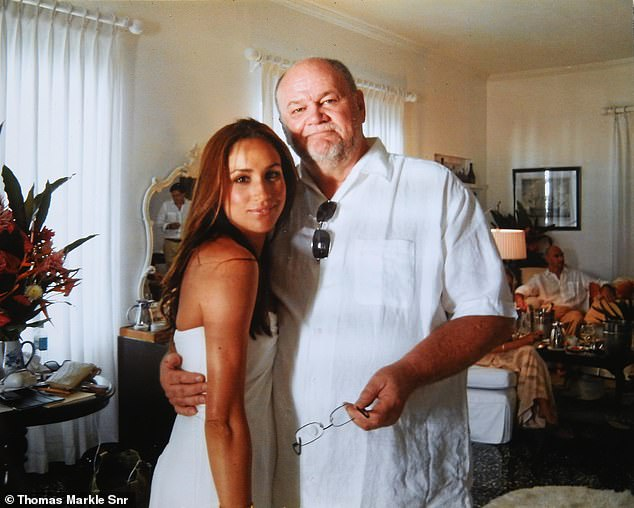 The Duchess of Sussex's estranged father, Thomas Markle, 75, has spoken for the first time after his daughter issued a writ against the Sunday Mail for revealing parts of a private letter she sent to her father.
The British newspaper used information revealed by Mr Markle seemingly against the wishes of the Duchess.
Speaking to the UK press for the first time since it was revealed, Mr Markle insists that he was 'devastated' when the existence of the letter was made public.
He maintains that he felt forced to reveal parts of the letter after one of Meghan's closest friends 'misrepresented' it in an interview with US publication, People Magazine.
The letter stems from back in 2018, when Mr Markle received a five page hand written note from the Duchess, delivered by Meghan's Los Angeles business manager Andrew Meyer.
In the letter, Meghan opened her heart out to her father is what appeared to be a heartfelt and loving communication.
Her father however saw it as a "final goodbye" and was deeply hurt by the contents, claiming the letter seemed to vilify him.
However after reading the article in People Magazine given by one of Meghan's friends, claiming the letter was loving and heartfelt, her father felt it necessary to defend himself.
Ex lighting director Thomas Markle, who lives in Rosarito, Mexico, explained, 'The letter was presented in a way that vilified me and wasn't true. It was presented as her reaching out and writing a loving letter in the hope of healing the rift, but the letter isn't like that at all. I have the right to defend myself.'
Fresh of a successful humanitarian trip to Africa, Prince Harry has hit out at the UK media for the 'bullying' of his partner, claiming the couple have been hit by 'relentless propaganda'.
'I lost my mother and now I watch my wife falling victim to the same powerful forces.' He pleaded.