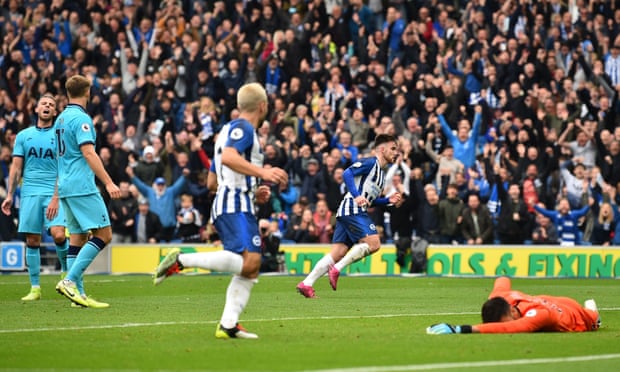 As the Spurs players left the tunnel most of them looked very serious. Harry Kane had the expression of someone who's fed up of losing but it didn't get any better. Tottenham were smashed once again.
Brighton were actually playing a back four, with Burn at left-back and Alzate to the right of centre in a diamond midfield.
On just 3 minutes Burn's overhit cross from the left forced Lloris to backpedal towards his own line. He made a split-second decision to catch the ball instead of pushing it over the bar, but he misjudged where he was in relation to the goal line. As he caught the ball, his momentum took him over the line, so he had to drop it in front of an open goal. Maupay reacted fastest to head it in from a yard. Lloris landed badly and looks in serious pain. He wasn't able to continue as Brighton took the early lead.
After a delay of around five minutes, Hugo Lloris was stretchered carefully off the field. He was still receiving oxygen looked extremely nasty. Paulo Gazzaniga replaced him.
Brighton had been much the better team and now they led by two. Burn hit a bouncing cross towards the near post, where Connolly got in front of Davies to flick the ball towards goal from six yards. Gazzaniga made a brilliant save, low to his left, but Connolly reacted first to steer the loose ball into the net. 32 minutes in and woeful Tottenham 0-2 down.
It was a full debut for Brighton's Aaron Connolly. He was a pest all day and now he scored his second goal. The move started when he made a fine run from centre to left to receive Dunk's long pass. Then he cut back inside, shifted the ball away from Alderweireld and cracked a superb low shot into the far corner from 15 yards to put Spurs 0-3 down within 65 minutes.
The Man of the Match was Aaron Connolly, he took Spurs expensive so-called stars apart having more determination that the whole of the lacklustre Tottenham side.
The focus, inevitably, will be on a totally awful Spurs performance and a horrible injury to Hugo Lloris. His season most likely over whilst Tottenham are quite frankly looking relegation fodder.
Mauricio Pochettino Tottenham's Manager said after another defeat,
"Hugo's injury had a massive emotional impact on the team, and we lost a goal as well. We tried to find a solution in the second half, a different way to play, but it was impossible. We are living a tough moment. We need to keep going and stick together. I feel sorry for the fans. It's not easy, after five and a half years this is the first tough moment we are living. It's new for all of us. I hope the pressure comes on me, not the players. We cannot underestimate this kind of situation, but in the times that are not so good there is always the possibility to make things stronger."