This week Celebrity & Fellow Master Chef Steven Saunders, proprietor of The Little Geranium in La Cala cooks at El Torreon restaurant in La Cala for a special tribute and charity event.
EVERY year my good friend and business colleague Salvador from El Torreon restaurant on the beach front in La Cala (by the Torreon/Tower) throws one hell of a party.
Those words make me smile because when you meet him that is what he will say to you! He uses those words like my friend Chico uses 'What time is it?'
I hooked up with Salvy and we sat over coffee as he explained his passion.
"We have been celebrating a week of Spanish rice for six years now.
"It's an opportunity to bring our little community together with some officials like the Mayor and the Chief of Police and enjoy lunch or dinner celebrating Spanish rice but also an opportunity to tribute some people usually in our industry who otherwise may go unnoticed for all their hard work and dedication."
Salvador explained that the rice week (from October 29 to November 3) is covered by Spanish TV and by the national and local press.
It's also an opportunity to raise some funds through an auction and this year the money raised will be for baby Antonio who is 14 months old and his body rejects what he eats and so needs constant hospital assistance. It's a rare disease and funds will help pay for treatments, but also for research.
So all in all an excellent way to enjoy great food and company and congratulate tribute winners, raise money for charity, mix with the locals and discuss parking issues with the police (at least that's what I will be doing!).
Salvador loves to throw a party and this year promises to be the best year ever as one of the highlighted special days for rice week is a day with me cooking! On October 30 I will be responsible for preparation of four great courses using my truffle risotto as my rice course, but also my scallop wellington, creamy celeriac velouté and white chocolate espuma.
Priced at only €25 for lunch or dinner which includes wine, beer and water, it's a real steal and if you want to come along email [email protected] and I will arrange the booking.
El Torreon is famous for its paella and I have to say that I eat all over the coast and I have never had a better paella than the ones made by Chef Isaac in the Torreon kitchen. It has real authenticity.
I will never forget Chef Theresa (sous chef) showing me how the high heat caramelizes the rice to the sides of the paella pan, it's called Socarrat… Eso es lo major! Or …'that's the best bit' she said (in Spanish).
She was right and if you achieve Socarrat you have created the perfect paella! It adds texture as well as that lovely intense sweetness and crunch, sitting here writing about it makes me want to get down there and order paella for lunch!
So this week in advance of Salvador's rice week, I am celebrating their famous paella and so here is their secret recipe!
Steven Saunders's opinions are his own and are not necessarily representative of those of the publishers, advertisers or sponsors.
---
Traditional Paella
Paella is a traditional Valencian dish from the east coast of Spain with Moorish influence. The closer to the coast the more fish is used and in the north they will add chicken, pork and rabbit. I often add fresh clams, concha fina clams and sometimes lobster, albeit this is not traditional, but it is kinda lovely!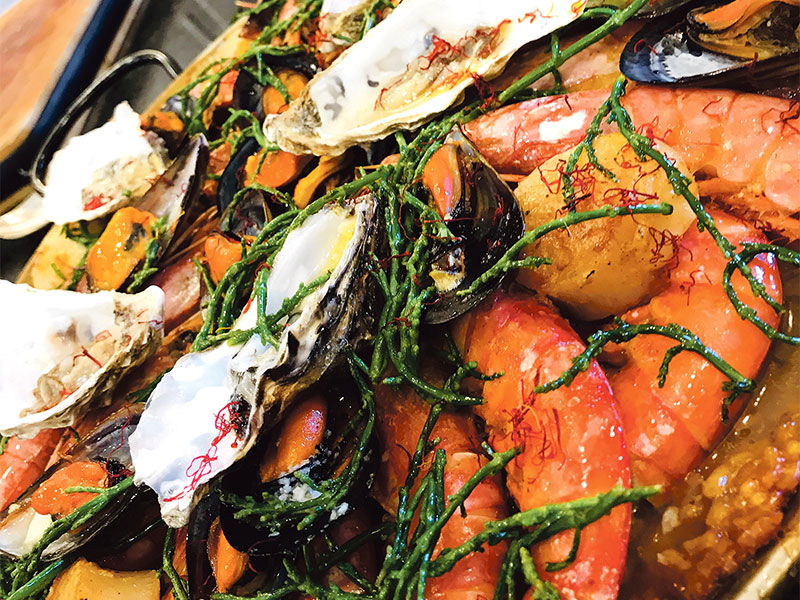 INGREDIENTS
SERVES 4
6 cloves garlic
1 onion
1 red bell pepper
400g of fresh squid cleaned
100ml extra virgin Spanish olive oil
150ml tomato puree
1 tsp smoked paprika
Maldon salt
Black pepper
700 ml fish or chicken stock (enough to more than cover the rice)
1 small sachet Spanish saffron in powder form
½ tbsp of saffron threads
400g paella rice
12 large raw jumbo prawns or 24 smaller ones (peeled and deveined)
Approx 16 fresh mussels (de-bearded and cleaned)
Fresh parsley
Fresh lemon
METHOD
Firstly cut up all the ingredients, finely chop the garlic, dice the onion, dice the red bell pepper and cut one large cleaned tube of squid into rings or ask your fishmonger to do this. Reserve the raw prawns that have been peeled and deveined and the cleaned mussels.
Heat a paella pan or large frying pan and add the extra virgin Spanish olive oil, once the oil gets hot, add the squid, mix it around and cook for two minutes, then remove the squid from the pan and set it aside.
Now add the onions and garlic into the pan and mix with the oil, then add the red bell pepper, mix and cook for a few minutes.
Next season everything with the smoked paprika, a generous pinch of salt and a little freshly cracked black pepper, continue to cook for two minutes, and then add the squid back into the pan.
Now add the fish or chicken stock and the saffron and the tomato puree and gently mix everything together.
Once this comes to a boil, add the paella rice to the pan and then gently distribute the rice throughout the pan with a wooden spoon. After a few minutes of cooking add the raw prawns and then the mussels on top. (I mention enough stock to cover the rice in the ingredients because pans vary in size. The rice/fish mix must be covered with the stock.)
Put in a hot oven 250ºC for about 15/20 minutes or until there is very little broth left. Check and if you don't have the Socarrat (burnt rice on the bottom of the pan), turn the hob on to a medium-high heat and put the pan on it for one minute or so.
Finally cover the paella pan with tin foil and let it rest for five minutes.
Uncover the paella, sprinkle with freshly chopped parsley and squeeze the lemon over and serve!
Follow Steven on Instagram … saunderschef – Email any questions … [email protected]
The Little Geranium, Winner of Best Contemporary International Restaurant 2019-Costa Del Sol – www.thelittlegeranium.com