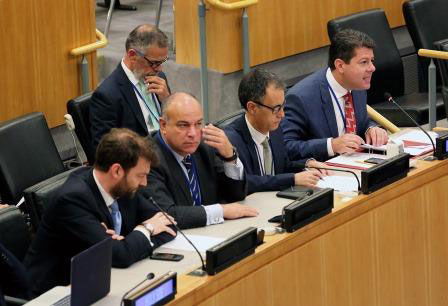 IN the eyes of both Britain and Gibraltar its status is quite clear and it is defined as an Overseas Territory which has direct links to the UK but has a significant element of self-government.
To Spain it is a British Colony and this belief is to some extent supported by South American countries within the United Nations.
Every year, the Committee of 24 (Special Committee on Decolonisation) meets in New York and reviews the position of a number of different enclaves around the world and this includes Gibraltar.
The Spanish delegate makes a strong statement implying that Gibraltar is a colony and should be returned to Spanish sovereignty which was lost under the Treaty of Utrecht in 1713 (which at the same time also saw Spain cede Menorca to the British).
Both the Chief and Deputy Chief Ministers of Gibraltar are allowed to speak to the Committee and every year, they rebut the Spanish claim and explain the role of Gibraltar both in history and today's world and always invite members of the Committee to visit the Rock to see the situation for themselves which is also always ignored.
At the end of the day, the British Empire has disappeared and Britain either decided or was pushed into the granting of Independence to the bulk of its Colonies and Dominions starting with India in 1947.
Nowadays there are just 15 Overseas Territories many of whom such as Pitcairn Island and Tristan da Cunha could not sustain their populations without British support and with the exception of British Antarctic Territory, South Georgia, Sovereign Bases in Cyprus and the bitterly disputed British Indian Ocean Territory (all of which have no native indigenous population) remain with Britain due to the will of the people.
With some 24,000 registered voters, Gibraltar has slowly but surely been given increasing self-government and elections are strongly contested with everyone knowing every candidate who they can easily bump into in the street.
Until this year, there have been two main parties, the combined Gibraltar Socialist Labour Party and the Gibraltar Liberal Party a coalition which has been in power since 2011 and the Gibraltar Social Democrats but for the next election which takes place on October 17, a new party has emerged.
Together Gibraltar, led by the Marlene Hassan-Nahon (daughter of the first Chief Minister Sir Joshua Hassan) will now field candidates and may well upset the situation whereby the winning party takes 10 seats based on individual voting preference and each member becomes a minister.
There is also a plan (which has was been suspended for this election) to increase the number of members of the House from 17 to 25 on a trial basis but this will be for the next Government to decide and will not take place for at least four more years.