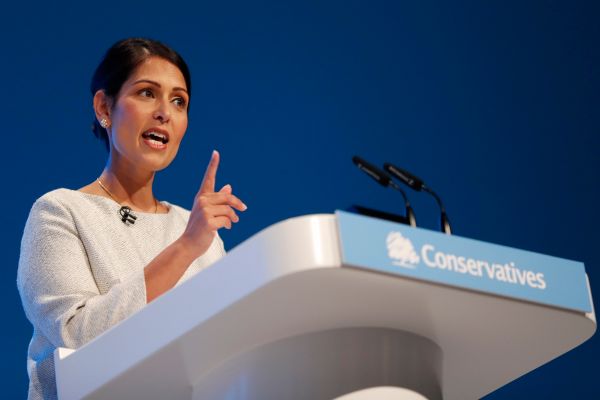 Priti Patel the current UK home secretary announced today she vows to "end the free movement of people once and for all"
Patel outlined a hardline policy on immigration to the UK basing it on the Australian points system that many British citizens have been calling for over many years.
The Australian system that has been in force for a few years operates on a points system for people wishing to reside in Australia.
The announcement came after she hit hard into criminals with a warning "we are coming after you"
She revealed a 10 million pound " taser fund" which will allow 60 percent of police officers to carry the electric weapon to stun alleged criminals.
Patel also threw into her speech a 20 million pot of fund to tackle drug dealing known as county lines where drug gang operators from major cities feed smaller areas exploiting teenagers and on occasions even younger children to run their drug supply into local areas.
Ms Patel said: 'As Home Secretary at this defining moment in our country's history, I have a particular responsibility when it comes to taking back control.
"It is to end the free movement of people once and for all"
The speech was slammed by Diane Abbott Shadow home secretary, saying the Tories "all voted to cut the police and oversaw a rise in serious and violent crime"
Patel had taken a swipe at Abbott in her speech saying "This daughter of immigrants, needs no lectures from the North London metropolitan liberal elite. That's what you get with a government that is driven by the people's priorities.
Of course, there will be only two dissenting voices. Diane Abbott and Jeremy Corbyn"
After today's speech, the Euro Weekly News interviewed ex-Police Inspector Iain Stamper to his thoughts formerly of the Somerset and Avon Police force and now residing in Mijas.
Iain said "To be truly honest most of it we've all heard before, politicians don't have a clue about crime they just preach, talk of budgets get raised when an election is close, but the force never sees the investment. As regards protection, gun crime is up so they raise taser budget? have you ever faced a gunman pointing a swan off shotgun at you whilst you hold an electric wire? The Spanish here have it the right way with all officers carrying weapons"