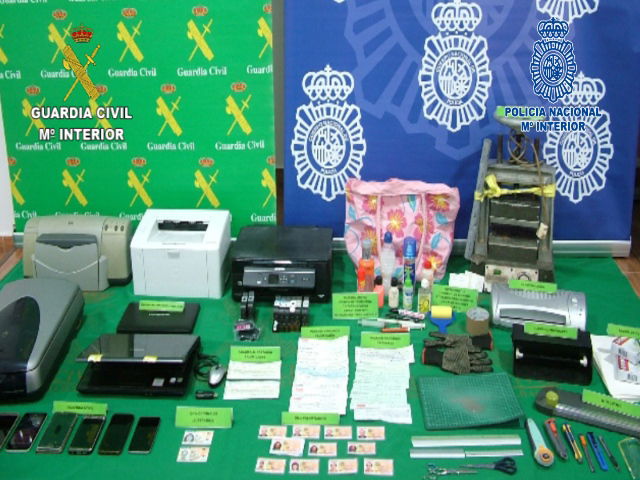 A JOINT Guardia Civil and National police operation has uncovered a network operating all over Spain which specialised in stealing and forging cheques and promissory notes, which they went on to cash in.
The authorities estimate the gang could have netted profits of more than €760,000.
The operation dubbed BRAIN-CECI led to 33 arrests in Castilla La Mancha, Madrid and Valencia region. A further three individuals are under investigation.
Charges levelled against them include fraud, falsification of official and commercial documents and robbery.
The Guardia Civil reported they have linked the network to more than 1,600 offences committed between 2017 and 2018 in 33 provinces, among them Madrid, Valencia, Alicante, Castellon, Murcia, Almeria, Malaga, Seville, Granada, Cordoba, Cadiz and Barcelona.
The operation into the gang's activities stemmed from a fraud case in a bank in Pozohondo in Albacete. Investigations revealed they could be dealing with an important and complex criminal structure, well-organised and with a clear pyramid-shaped hierarchy of responsibilities.
At the top were three managers and coordinators. Below them were highly trained forgers.
At the lower levels of the structure were the foot soldiers who stole correspondence from company post boxes located on industrial estates or directly from post office vehicles in search of original cheques or promissory notes. These were then handed over to the head forgers to change the amounts, expiry dates and beneficiaries' details.
The network also had "drivers" who recruited and took to the banks individuals to actually cash the cheques, supplying them with false IDs and signatures to copy.
To make the false documents seem genuine they respected the basic business details of the companies producing the documents, like the bank account IBAN numbers and signatures of the representatives appearing on the original documents.
The forgers operated in "laboratories", the Guardia said, the locations of which were known only to the organisation heads.
Searches of a number of properties led to the discovery of high-tech computers, printers and scanners, as well as stolen post, falsified documents and chemicals, tools and other materials used for the forgeries.