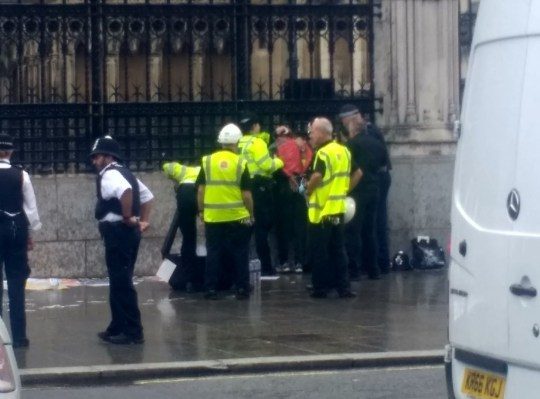 A man outside Parliament has just been arrested after setting himself on fire.
Huw Merriman MP tweeted: 'Man next to me at Parliament's carriage gates appears to have poured (what smells like) petrol on himself. Incredibly brave response from police, who are now helping him.
The fire starter male was held up against the wall next to the gates and was extinguished quickly by an armed police officer with a fire extinguisher
Parliament Square was closed off while police dealt with the incident.
The slightly scorched man was taken to an ambulance with his hands cuffed on the back of his head.
His description as being black, in his 20s, wearing jogging bottoms, trainers and a red coat by eyewitnesses.
A fire engine was soon on the scene just after the man engulfed himself in flames.
The fire-starting man was stood next to large red banners with slogans saying " Leave means leave" whilst it's not sure if he was lighting himself on fire for that reason, although if it hadn't been for the brave actions of the police officer he would have certainly left this planet today!