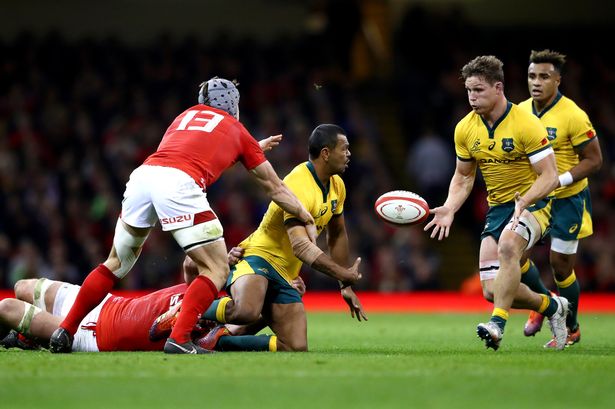 Biggar's boot started the game, he kicked deep and targeted Hooper. Starting an early turn over Wales won the ball in hand about 30m out.
The first possession and Wales pinched it, the man with 10 on his back slotted it sweet as a nut first points, first blood went Wales.

Haylett-Petty almost broke the line on the restart, but he couldn't maintain control and the ball went to ground. Wales advanced, and it was a penalty against Australia Ashley-Cooper was accused of being off his feet.

Biggar from near the touchline took the penalty, but he slotted it just to the left. It was a let-off for Australia. 6-0 could have been a harsh start.

On the 11th minute the scrum collapsed, Australia was accused of angling. The Welsh lineout was about 20m out. They went deep and it was North on the run once again. A few phases, but Australia's defence picked out the one-off runners. Biggar kicked to the corner, and it was Parkes who raised above Koroibete to pluck the crossfield bomb and place it for a Welsh try. Biggar converted with ease taking the game to 0-10.
Wales kicked to touch and set the lineout on the 18th minute of the – but it was pinched by Australia great catch it was, from the men in gold. Wales kept the defensive runner up, and the maul went nowhere. with another turnover. It was a good scrum from Australia – they won the penalty and got out of danger. Kerevi took another big carry before Foley looked crossfield with a kick, and it saw Australia take their first try. 5-0 with the Australians getting into the flow of the game despite missing the conversion.
Australia pushed wide on 26 minutes and was George North who gave away a penalty. They played on, and it was Kerevi with another monster run – he dropped the goose step and palmed off a would-be tackler before Biggar came across with a crucial try-saving tackle, Australia came back for the penalty. Foley slotted it from 10m in from touch. It floated a little ugly, but it flew between the sticks to make it 8-10 and narrow the scoreline.
Owens won a lineout feed on 30 minutes, which Wales won but it was a poor pass out of the halves and Patchell did very well to pick up off his bootlaces. The Welsh continued to probe and it was Hooper who was eventually penalised for coming in over the top. Patchell lined up for the kick and scored taking the game to 8-13 extending the Welsh lead.
It was another penalty 3 minutes later against Australia after yet another foul to which Wales again slotted home to make 8-16 once again increasing the Welsh scoreline.

Just as we neared half time Genia threw a risky throw and it was plucked out of the air by Welshman Davies who was far too quick, and he sprinted away for the try Patchell once again took the conversion blowing our massive 16-point margin at half time with the score at 8-23.
Second half kicked off by Australia, What could Australia come up with to try and salvage this match? " Land Of Fathers" rang around the ground from the Welsh fans.
42 minutes in saw a very good carry as Wales burst down the wing, and then they looked to build through the centre. 15m out, and they set up nicely it was passed back to Patchell, and he slotted home the dropkick. It was a great start to the second half by Wales making it 8-26.
Straight after on 45 minutes Toomua took a half break before Haylett-Petty made a burst. He looked inside for Toomua again. They were about a metre short of the line that saw desperate tryline defence from the Welsh. But it was Pocock who drew two defenders before finding the fullback outside him once again. It was fine flowing move ending in a great try. Toomua lined up the conversion. Straight over it went for 15-26.
Wales defended well until the 60th minute when Australia set up a maul, but it went nowhere. They spun wide and Hooper's eyes lit up taking Australia a metre short of the line, Hooper popped it under the sticks, claiming it. It was pure muscle from both sides. Such an incredible defensive effort from Wales, but the gold No 7 eventually found a way. Toomua with the kick scored taking the game closer again to 22 -26.
66 minutes in and a Penalty was awarded against Wales – an infringement in the scrum and Toomua kicked well for another 3 points and reduced the score to a point difference of 25-26.
2 minutes later saw a penalty against Australia as Rodda attempted a charge down – but his compatriot Kepu was pinged for offside. Wales kicked to touch, it was a good opportunity for some attacking possession, Wales were awarded another penalty, Patchell's kick just crept inside the post – the lead extended to 25-29.
A dramatic game played out as Wales defended for their life but they held on well until the hooter went to confirm a fantastic victory!