This week Celebrity Chef from Ready Steady Cook & Fellow Master Chef Steven Saunders, proprietor of The Little Geranium in La Cala serves up homely food with the X Factor!
WE all seem to love a classic home cooked meal, real food my father calls it!
My Mother was a great cook and she always made the best fish pies, lamb stews, Steak and Guinness pie, roast beef and the best Yorkshires that I have ever tasted. Living here in Spain we miss that kind of food so much and recently Michele asked me to create a homely menu for lunchtime at our restaurant.
In minutes I had just the right menu up and running, serving up my Mother's amazing fish pie glazed with gruyere cheese (she had French blood) and it was a great success!
So every week we now have a new special unpretentious dish and a glass of good wine included for €15.
Last week we cooked a lamb stew or as my Mother would say a Lamb Navarin which is a classic French stew except my Grannie would add home-made dumplings.
I called it Grannie's Lamb Stew and I hope my mother would approve of me adding in the dumplings, but they make it super tasty and bring back fond memories of eating with my Gran sat next to Whiskey, who was her little dog.
To make sure that the flavours of the dish are perfect I make something simple but special every Monday evening (we are closed Monday) and then serve it Tuesday and as far as a stew goes it gets even better when its been in the fridge resting for 24 hours!
Friends are always visiting us and one friend who visits often and loves a homely dish is our Chico. He popped over for the weekend and I made him Lamb Stew. "Steve," he said "why don't you sell the recipe to a food company and sell it in supermarkets worldwide?"
"Chico, I love you bro but as soon as they get hold of it is when the additives appear and the recipe changes and it's just not the same. Most ready made meals are made on a budget which means less lamb and more veg and the real recipe is then killed off.
"So let's just leave it as it is, a dish served in our restaurant at lunchtimes and in my home at weekends!" "OK bro" he replied!
Chico is preparing for the Christmas Special X Factor Champions Show and so flew back to the UK early the next morning but said it's worth flying thousands of miles to eat my food!
For you guys over here, simply go online and book asking for the homely special lunch offer, you won't be disappointed.
So when you are thinking about what to do this weekend; why not invite some friends over and try my Grannie's Lamb Stew at the restaurant or make your own? Serve it with lots of veg inside and all you need is a fork and a spoon!
It's a real one pot wonder, easy to make and therefore easy to clean up after! Chico said "If it's that easy why is there flour all over the kitchen and up the walls?"
"Ahhh," I replied "that will be the dumplings. The first batch didn't work out, so I created my very own far simpler recipe for dumplings.
"It doesn't explain the flour all over the kitchen walls but then again I am a chef, we are allowed to make a mess in order to create the most amazing food!"
What time is it? Chico time and time to get the stew from the oven!
I hope you enjoy cooking and eating my Gran's stew and watch this space for my mother's fantastic Steak and Guinness pie coming soon!
Steven Saunders's opinions are his own and are not necessarily representative of those of the publishers, advertisers or sponsors.
---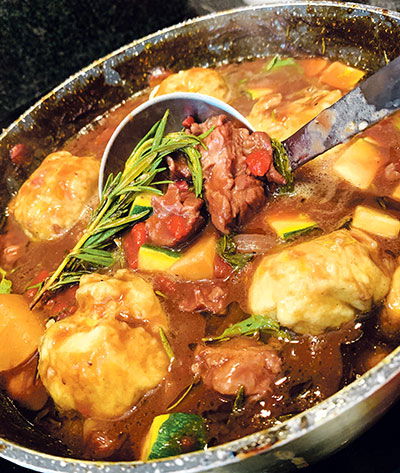 Grannie's Lamb Stew with the
X Factor
Serves 6/8
1.5Kg of stewing lamb (middle neck preferably) cut into approx 3cm chunks
4 tablespoons of plain flour seasoned well with salt and black pepper
3 red onions sliced into chunks
4 carrots peeled and sliced fairly thickly
1 small leek washed and sliced
2 courgettes washed and cut into 2cm pieces
Approx 8/10 new potatoes skin on, cut into 2cm pieces
1 litre of chicken stock
4 tablespoons of tinned chopped tomatoes
2 tablespoons of tomato frito (tomato puree)
1 tablespoon of peppercorns
8 rashers of streak bacon finely chopped
1 bunch of fresh rosemary
1 bunch fresh mint
1 bottle of Rioja red wine
1 tablespoon honey
Maldon salt
Fresh milled black pepper
Chopped parsley for the finish
For the Dumplings
1 level tablespoon chopped parsley
200g of plain flour
Pinch of salt
Approx 200ml of milk
Salt and pepper
Two teaspoons baking powder
Method
First cut away excess fat on the meat to trim a little then dip them in the seasoned flour.
Now put the meat in the bottom of a warm large saucepan on a medium heat and seal until lightly coloured.
Remove the meat from the pan onto a plate and now cook the bacon, onion, carrot, leek and potatoes in the pan in a little olive oil. Then after put back the seared meat.
Add about ¼ of the bottle of red wine which will deglaze the pan and bring to simmering point. Add the stock and the tomatoes and tomato frito, the peppercorns and rosemary and mint and bring to the boil.
Spoon off any scum that rises to the surface, then add at least one more quarter of the red wine, cover the pan with a well-fitting lid and leave to simmer over a low heat or in a preheated oven at 150ºC for about two hours.
About 15 minutes before the end of the cooking time, make the dumplings. Mix the flour, the salt and pepper and the parsley in a bowl. Then mix in the baking powder and enough milk to bind it together so that it is stiff and leaves the bowl clean. Shape it into 6/8 dumplings the size of a ping pong ball.
When the stew is ready and the meat is nice and tender add the honey and stir well in. Taste and correct seasoning. Then remove the meat and vegetables with a slotted spoon on to a large warm serving dish. Remove the rosemary and mint sprigs. Cover this with foil and keep warm, now add the remaining red wine and bring the sauce to a brisk boil to reduce it for 10 minutes.
Put the dumplings in, cover with a lid and cook them for about 10 minutes, making sure that they don't come off the boil.
Finally put the raw chopped courgettes in and put back the meat and veg into the sauce. My Grannie used to keep the lid off and then bake the stew in a hot oven for a few minutes to crisp up the dumplings. Serve with a ladle straight from the pot into bowls.
Sprinkle with chopped parsley.
Follow Steven on Instagram … saunderschef – Email any questions … steven@thelittlegeranium.com
The Little Geranium, Winner of Best Contemporary International Restaurant 2019-Costa Del Sol – www.thelittlegeranium.com