BENIDORM'S legendary entertainment hotspot is tonight celebrating welcoming their 16 millionth guest.
Benidorm Palace gave the VIP treatment to Ms Joan Wright who walked through the door this evening to fanfares and fireworks.
Ms Joan Wright of Heartfordshire was stunned to be put in the spotlight during a visit to the club with Anne Moss and were treated to two weeks at the Hotel Sol Pelicans in Benidorm and flights by jet2 to mark the milestone occasion.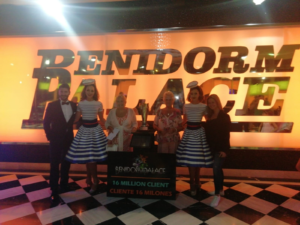 Benidorm Palace opened in July 1977 and for more than 40 years has become a must-go attraction in the popular seaside resort.
On that first opening night, when Spain had recently emerged from the grip of dictatorship and were enjoying the taste of freedom, the atmosphere was electric.
In the run up to the club´s debut, the staff and management had been through many dress rehearsals to make sure that everything was all right on the night.
When the doors opened, more than one and a half thousand guests flooded in, the footlights beamed on the night´s compere who for the first time uttered the words: "Welcome to Benidorm Palace"
Thousands of kilowatts of light flooded the room, and the light has burned brightly for more than four decades since.
Benidorm Palace has established itself as a prestigious party venue, with an unbeatable and unique offer on the eastern coastline of the peninsula.
The great variety has included many great international musical artists, renowned orchestras, ballets, and performers from around the world.
Notable performers throughout the years have included Boney M, Julio Iglesias, The Platters, UB40, Rudolf Nureyev and Richard Clayderman.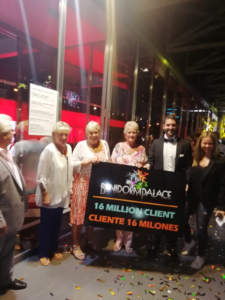 By Steve Kenyon