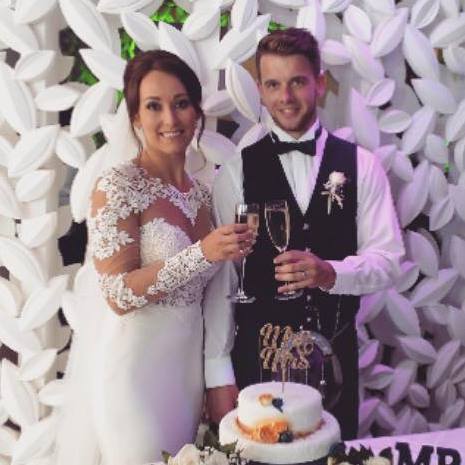 KIRSTY MAXWELL died in mysterious circumstances in Benidorm in 2017 while on a hen party weekend with friends.
Mrs Maxwell, who had only recently married, returned to her apartment on the ninth floor in the early hours, and was filmed asleep at about 06:50 on the morning she died by one of her friends because she was snoring.
About an hour later she fell to her death after inexplicably entering an apartment on the floor above which was occupied by five British men who were there celebrating a 50th birthday.
All the men denied any involvement in her death and could offer no explanation as to why Mrs Maxwell had entered their apartment. The five men were investigated by Spanish police but their lawyer says they had been told there was no evidence against them and were allowed to return to the UK after being questioned as part of the long-running court probe.
Kirsty Maxwell's family in the meantime say they've been robbed of justice after a "farcical" Spanish police investigation into her death
Brian Curry, Mrs Maxwell's father, said: "From the start we believe the police have been untruthful with us, they have been inept and they have been incompetent.
"The way they have handled a lot of the evidence has been farcical, for example Kirsty's clothes when we found out six months later that they had been burnt. Nobody was taking responsibility for how that happened.
"The CCTV going missing. We asked for 12 hours, they gave us seven minutes, so someone has obviously edited that.
"We have asked about the phones, the men had mobile phones but no-one forensically checked them over but they checked Kirsty's."
Her family believe a "catalogue of errors" and missed opportunities in the investigation mean they may now never know the circumstances leading to her death.
It is still not known why Kirsty left her room and travelled up to the 10th floor.
Kirsty's father informed: "We had to carry on the investigation because no one else was. As far as the police were concerned they did their job on that day and that was enough. It didn't matter how much information David and his team passed on to them, they weren't interested."
Now a prosecutor has officially concluded on the basis of the evidence that Kirsty entered the apartment "voluntarily", was drunk and disorientated and fell over the balcony.
The case had been closed by the judge in Benidorm, but that decision "can be appealed within five days"
"Kirsty is not here so we have to be her voice. We are going to keep going and not give up."