Although it might be considered a single state (Brexit aside), the Euro Zone's views of gambling wildly differ from country to country.
Amazingly, even though the EU classifies and binds European states to one set of umbrella laws, there's no cross-EU standardization or regulation of the gambling industry. What's allowed in one country might not be in another; age limits vary, and types of gambling allowed do too.
As such, gamblers need to know where they stand – which type(s) of gambling are allowed, whether this is online or offline (or both) for wherever they are located within Western Europe.
Here's a breakdown of how the various countries in the Western Euro Zone view and legislate gambling.
United Kingdom
UK operators are under huge pressure from the UK Gambling Commission. Even affiliates promoting UK bonuses need to tread very carefully.
Marketing gambling activities in the UK alone has come under quote some scrutiny over the past few years – the Advertising Standards Agency has an entire in-depth section related to the rules for gambling advertising – and it's full of confusing advice. This alone would make it harder for UK affiliates to function, but the opening up of other markets – across Europe, and the legalization of gambling in the US – will also give UK affiliates a real run for their money and influence.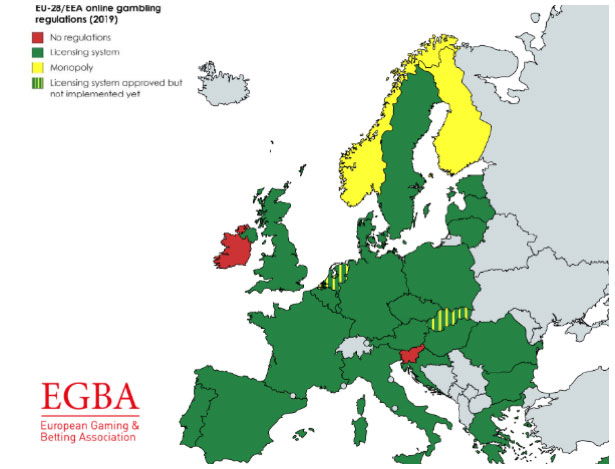 That and, UK affiliates are now being held accountable to the operators they advertise for, making operators liable for affiliate marketing activities. One non-compliant step, and the UKGC could come cracking down on casino operators.
Otherwise most forms of online and offline gambling – online Casino, sportsbetting, horse racing, lottery, online Poker and Bingo – are legal in the UK.
The European Gaming and Betting Association
The EGBA is the European counterpart to the UK's Gambling Commision, and was established in 2007. It's a little different to the UKGC, in that it works with its member state's own legislative bodies to regulate gambling.
The EGBA is based in Brussels, and has the tough job of regulating and coordinating Western European gambling activities across the following countries:
Gambling in France
The EGBA devolves power to three main bodies: Pari Mutuel Urbain for horse racing; the Francaise des Jeux for lotteries and betting, and the ARJEL for all other online gaming activities.
After a request from the EU, France imposed a 2009 gambling bill to regulate online gambling activities, including sportsbetting, horse racing and Poker.
But – the plot thickens: ARJEL currently only gives licenses to French operators looking to enter the sportsbetting market – for casino games, spread betting or exchange betting, it's not such a clear cut situation. French bettors therefore need to find other ways to satisfy their online gaming itch.
Gambling in Germany
The German gambling laws are pretty complex: in 2008, online gambling (in all forms) was pretty much all but banned, other than state lotteries and horse racing. The EGBA challenged this ban, stating it had breached EU rules.
Fast forward to 2010: the European Court of Justice forced Germany to decentralize the gambling industry, installing the Interstate Treaty on Gambling Law (ISTG) in 2012, allowing private companies to operate gambling services to German markets. Even stranger, this ruling was passed across all Germna states, except for Schleswig Holstein, which decided to pass its own, far more liberal and allowing, gambling legislation.
In 2013, the ISTG was revoked by a newly elected German government, which applied across the country…apart from in Schleswig Holstein.
Today due to this act, online gambling is banned, but brick and mortar gaming is allowed, and is regulated by the German Ministry and Senate of the Interior.
Gambling in Spain
Spain has also had a few changes to its gambling laws: in 2012, the Spanish National Gaming Commission issued licenses for regional operators.
Gambling in Spain absolutely boomed as a result, and it's now legal for Spanish residents to play online casino, Live Games, Online Poker, sportsbetting and Online Bingo. It's a huge – and growing – market.
Gambling in Italy
Italy's gambling laws are very liberal – and possibly one of the most liberal across Europe. In fact, back in 2006 – a time when other Euro Zone countries were introducing heavy regulations and rulings on other EU members, Italy was one of the first countries to grant legislation allowing private companies to provide sports betting services in both land-based operators and online.
In 2011, there were some amendments to the legislation: granting additional Poker and Casino games licenses. Italian bettors now have a good range of licensed sites and betting options, both online and offline.
The Euro Zone Future: Legislation and Regulation?
Although time will tell, it seems that it's almost inevitable that the gambling industry across the Euro Zone will be regulated: the question is how.
With a governing regulatory body – the EGBA – having to regulate across many countries, each with their own set of bodies and regulations, won't be easy. Add in the ongoing saga that is the UK's Brexit, and instating any potential regulation will become harder than ever.