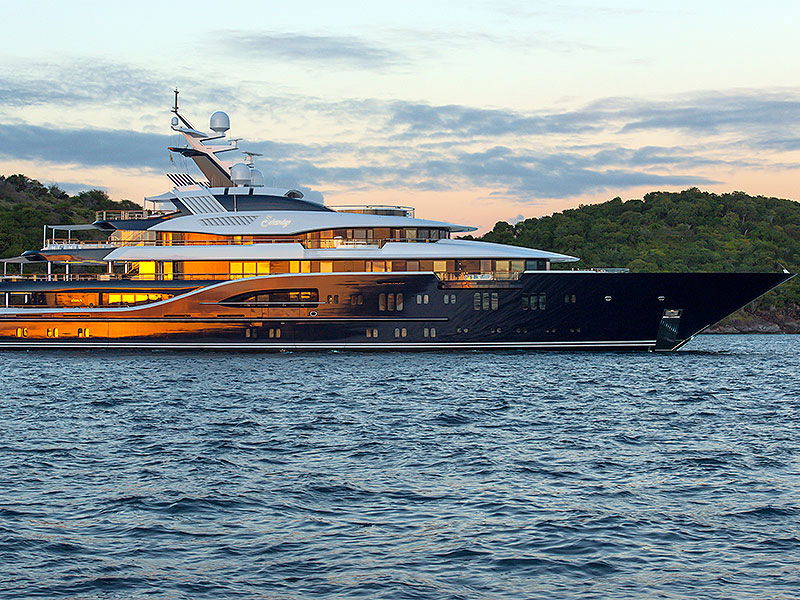 ONE million euros a week looks a lot like this, but do add on expenses. Fuel, food and beverages, plus of course tips.
Built as a family yacht for pleasure but with an eye to the charter market where the Superyacht SOLANGE commands a fee that starts at €1 million per week. At 85.1 metres length overall and a beam of 13.8 metres the yacht has extraordinary volume.
Interior designer Aileen Rodriquez remarked when the yacht was delivered: "The unique mix of rare and striking materials gives the yacht its ultimate look and luxurious style."
The main entrance is dominated by the Tree of Life, a glass sculpture rising some 16 metres from the tank deck to the bridge deck, though the staircase winding round the lighted glass column where more than 1,200 points of light suggest tropical rain and coloured glass flowers bloom.
The staircase is itself contained within walls panelled in antiqued Venetian mirror and edge lit hand carved art glass. Nearby an elevator clad in leather panels which itself provides access to all decks and may carry as many as nine guests at once.
Aft of the main paved wood foyer is the main salon. Which unlike many superyachts of this size is undivided but rather one vast open space with the main dining table set in the centre and may accommodate up to 12 guests. Set above the table are three Schonbek chandeliers with large crystals of amethyst and rose quartz.
Forward from the dining table there is a comfortable seating area with a fireplace as well as a hidden television. Looking aft towards the stern is another seating area and the bar, beyond open deck space and a stairway to the yacht's 'beach' and the many superyacht 'toys' stowed in the 'garage' behind the beach.
Toys and entertainments; a cinema is almost expected on a superyacht and so yes it's no surprise to find one. However, the cinema is really luxurious, so is the fabulous day head conveniently close to it. Spread across the six vast decks there is also a removable sundeck dance floor with a console for a DJ and disco, lights and all. A hot tub or jacuzzi is also expected and SOLANDGE has two hot tubs and, to top it all, a six-metre pool on the bridge deck aft equipped with a jet stream to swim against. Besides which is a chromatherapy spa with hammam and massage room.
There is a galley tasked to create culinary delights, there are numerous deck spaces close by and open to the sea, which bring guests into more intimate contact with the elements.
SOLANDGE sleeps 12 guests in seven staterooms including a master deck featuring 180 degree windows and private deck with a spa pool.
While each of the cabins has its own unique colour scheme the decoration of each room reflects the opulence found throughout SOLANDGE. Handmade Italian furniture and highly intricate stonework, mother of pearl inlays ensures that everyone on board is able to sleep in absolute luxury.
Waking or sleeping, at rest or at play, 29 crew ensure that every care is taken of up to 12 guests whether at sea, in shore at anchor or calling at marinas around the Mediterranean.
Charter SOLANDGE from only one million euros for each fabulous week. Alternatively travel to the principality of Monaco next week [September 25 to 28 ] for the Monaco Yacht Show and compare several superyachts.
Nick Horne, London, England.