This week Celebrity Chef from Ready Steady Cook & Fellow Master Chef Steven Saunders, proprietor of The Little Geranium in La Cala prepares a dish great enough for the Gladiators!
WHEN I was a young boy I loved a band called Nero & The Gladiators who were a rock and roll band, I was a tiny kid. Nero was played by Mike O'Neill who wore a toga and a laurel wreath crown and the band wore Gladiator costumes.
In or around 1994 when I was filming a TV cookery quiz show called Eat Your Words with Loyd Grossman at Granada TV in Manchester and I met up with Mike O'Neill who told me that they had reformed the band and were playing oldies like Entry of the Gladiators (a piece originally written by composer Julius Fucik).
Most of us know this classical piece played as the opening of a circus. Nero and the Gladiators did a faster version using electric guitars, it was never a big hit because BBC radio banned playing rewritten versions of classical songs.
A few years ago at a party thrown by EWN owners Steve and Michel Euesden I met up with two great entrepreneurs, John and Nicola Morrissey. John is a larger than life character who told me about some of their exciting projects highlighting the production of their newest creation…Nero vodka.
I loved the name because it reminded me of the 60's band and I waited patiently to see when the vodka would materialise and at one point I assumed that it had been abandoned as I had not heard anything.
Then John and Nicola were having dinner in my restaurant and enthused about the production of Nero which was going to be imminent! "I want some!" I said not only because it is British, but it's made from potatoes and not grains (wheat) which most vodkas are now made from.
I met up with John and Nicola at their home this week and Nicola explained to me that one of John's passions is the Gladiators and the Roman Empire, hence they called their vodka Nero.
Nero Claudius Caesar Augustus was the fifth Emperor of the Roman Empire and was just 16 when he took the throne. He brought an end to blood sports and punishment and promoted poetry and athletic competitions instead.
"Nero was an amazing Emperor, Nero vodka is an amazing vodka," Nicola said. "What makes Nero vodka stand out from the crowd is that it is gluten free (ie not made with grains) and it is made with no additives, sweetened naturally by the potatoes instead of sugar or artificial sugar, it's ideal for vegetarians and vegans also," she added.
"We also only use quality potatoes like Maris Pipers and we distill in London using the best distillers who are in the main Polish." Nicola explained that because of the way it is distilled it has fewer calories than a glass of wine or a gin and the finished product is smooth and velvety and has aromas of garden flowers and citrus.
I tried it last night with my wife Michele and honestly, it is the best vodka that I have ever tasted! Although it is more of a sipping vodka it mixes brilliantly. Michele and I love a good vodka and we both commented on its creamy smoothness and the fact that it has no after burn and no real alcohol aromas are left lingering, although it is 40 per cent volume.
"I want to see how I can incorporate it into food," I said and so I immediately set to work with some ideas and came up with this absolutely delicious dish that you really should try.
Gladiators had a mainly vegetarian diet but would eat fish if they could get hold of it! By the way if you can't get hold of Nero vodka which will be on the shelves in Spain soon, then email Nicola nikki@nerovodka.com she might send you some samples!
Great food is about using great ingredients, Nero vodka is going to be the greatest!
Steven Saunders's opinions are his own and are not necessarily representative of those of the publishers, advertisers or sponsors.
---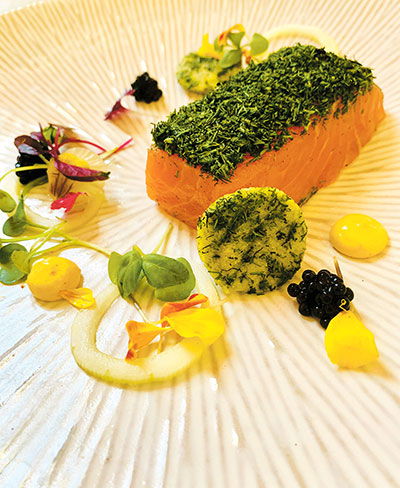 Nero vodka cured salmon sousvide
Sousvide is a really on trend way of cooking very slowly to keep flavours in and the ingredients soft, juicy and packed with flavour. Below I show you a way to sousvide without a machine!
Ingredients for eight
Marinade mixture
1kg piece of skin-off salmon fillet
1 heaped tablespoon sea salt and two heaped tablespoons of caster sugar
Zest of 2 lemons
100ml of Nero vodka and more for the shots!
1 bunch of fresh dill (or chives) chopped very finely for finish
1 flat tablespoon of wasabi mustard
2 tablespoons of mayonnaise
Juice of ½ lime
For mini Blini (optional)
1 tablespoon of spelt flour,
1 egg separated (whites whisked to peak)
2 tablespoons of milk
1 teaspoon of bicarbonate soda
Maldon salt
A little wakame seaweed pickled cucumber and micro cresses to finish
Method
Cover the salmon side totally all over with the salt, sugar and lemon zest and put into a baking tray and cover with the vodka
Once it has been curing for two hours remove from the fridge and rinse under cold water, making sure that there is no salt mix left on the salmon, and then pat dry with kitchen towel and taste check. If the flavour is weak, pour more vodka over it and leave for another 30 minutes.
Once patted dry, cut the salmon into 8cm long and 4cm wide pieces and roll each piece tightly in cling film to create sausage shapes. Tie the ends of the rolls of the cling film, knotting them tightly ensuring that there are no air pockets. Refrigerate.
To sousvide the salmon without a machine pour hot tap water (55-60°C) into a tray deep enough to completely submerge the salmon. Place the salmon pieces still wrapped in cling film into the tray and leave for 10 minutes. After 10 minutes, turn the salmon over and leave for a further 10 minutes. This process has only partially cooked the salmon.
Once ready, remove the salmon from the water and chill. Set aside in the fridge until needed
For the wasabi mayo, place the mayonnaise in a bowl and add the wasabi and a squeeze of lemon juice and seasoning. Put into a squeezy bottle and keep in fridge.
For the blinis mix together all the ingredients and fry like a pancake and then when cooked on both sides remove and cut into tiny 3cm rounds.
To construct and serve
Remove the salmon from the cling film and brush the top of each piece with a little olive oil and then top with the chopped dill. Arrange on the plate with some pickled cucumber, wasabi mayo and little blini. Serve with shots of ice cold Nero vodka on the side!
Follow Steven on Instagram … saunderschef – Email any questions … steven@thelittlegeranium.com
The Little Geranium, Winner of Best Contemporary International Restaurant 2019-Costa Del Sol – www.thelittlegeranium.com