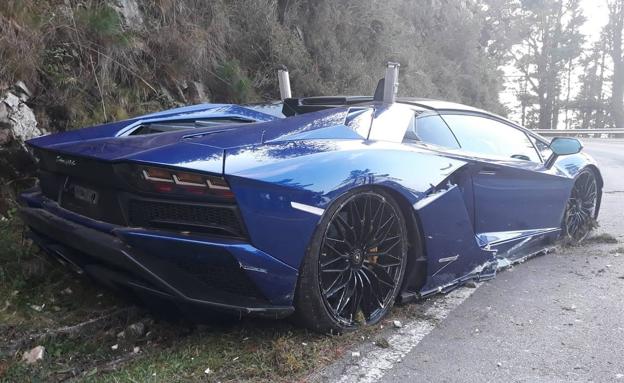 Police Investigation Into 3.5 million euro car race.
Whilst we often hear the term "boy racers" as we witness souped up little road cars driven by a driver wearing a baseball cap backwards whilst smiling at the sound of his blaring bore holed exhaust whilst hitting the dizzy speeds of 40 mph, Boy racing in the mountain roads in Asturias has gone to another level.
A minimum of 10 luxury sports cars appear to have been racing in the mountains windy roads.
A full investigation is now underway by the Guardia Civil that saw a mega costing 300,000 euro Lamborghini XAS5 crashed off a winding mountain road in Colunga, in the region of Asturias, this week.
Among those circumstances is the fact that this was one of around 10 Lamborghinis travelling on the AS-260 road at the time, and the suspicion is that the driver, who was fortunate to suffer only minor injuries, was taking part in an illegal race of some kind – video footage shot from another vehicle shows as many as nine Lamboghinis overtaking on the short straights between bends.
The value of the cars involved exceeding a staggering 3.5 Million euros!
Having studied the video footage the Guardia are investigating a series of possible traffic offences committed, and officers have travelled to the beauty spot of EL Fito to investigate further.
One of the first things they have discovered is that among the drivers were at least two British nationals, who were staying at a 5-star hotel nearby and appear to have chosen this road to try out their luxury sports cars.
Whilst of course it's a serious matter that could see innocent mountain sight seeing road users caught up in dangerous activities – it does take " boy racing" to another level!