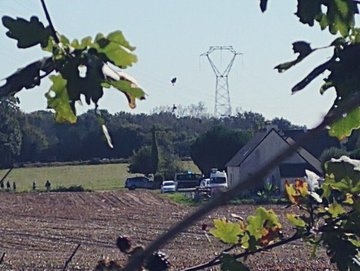 A Belgian F-16 crashed in France and, after ejecting, one of its two pilots hit a high-voltage power line and was left hanging in the air for two hours.
The plane was travelling at supersonic speed from Belgium to a naval airbase in France this morning when it plunged in Britanny, officials said.
Both pilots ejected from the fighter jet before it crashed, but one of them became stuck on the electricity line after his parachute became caught.
He was later helped down after power in the area was turned off to save the pilot from frazzling as he hung to the electrical wires with 250,000 volts firing through him.
No one on the ground was injured when the jet crashed, which the Belgium Defence Ministry said was due to unspecified engine trouble. The two pilots said there was an "engine technical incident" during flight whilst at Supersonic speed.
One house was damaged in the incident, according to someone who reported their roof was sliced right off by one of the plane's wings. He said his parents were home at the time, and are 'okay', but like the pilot had the shock of their life!