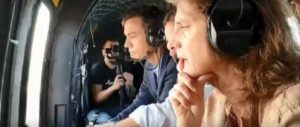 ACTING Spanish Prime Minister has pledged the government will not skimp on efforts to find resources to help areas of Almeria, Valencia and Murcia hammered by last week's extreme weather and has asked those affected for their patience while the administrations assess the damage.
Pedro Sanchez made the comments this morning, Monday, during a visit to Nijar, one of the regions of Almeria hardest hit by the torrential downpours.
Accompanied by acting Ecological Transition Minister Teresa Ribera, Sanchez was taken over the region by helicopter to get a bird's eye view of the extent of the flooding.
He then held a 30-minute meeting with Junta de Andalucia President Juanma Moreno, Nijar Mayor Esperanza Perez and local emergency service teams to find out more first-hand about the dramatic impact of the wild weather.
"Now the evaluation of the damage caused will start, which will take several days", Sanchez commented as he left Nijar Town Hall.
Expressing his "solidarity" with all those affected, he also warned that the consequences of the "crisis" caused by the 'cold snap' "are not over yet."
He called on residents of affected areas "to be very aware of information from all the public institutions" in order to keep themselves safe.
Earlier this morning Junta de Andalucia President Juanma Moreno toured flood-affected areas of Nijar and talked to local farmers.
"I want to express all my support for the farmers who are going through such hard times", he commented on his Twitter feed.
"Tomorrow we will approve the first assistance", he added.
Nijar is one of the most important areas for the intensive agricultural industry. According to Junta de Andalucia estimates some 2,000 hectares of greenhouses in Almeria and 400 hectares in Granada have been damaged by the severe storms.
El presidente del Gobierno visita esta mañana las zonas afectadas por las lluvias torrenciales en #Níjar, Almería. @sanchezcastejon se ha reunido con autoridades y equipos de rescate para conocer la evolución de los daños y ofrecer toda la ayuda y recursos a la población. pic.twitter.com/BjsMai7zJw

— La Moncloa (@desdelamoncloa) September 16, 2019