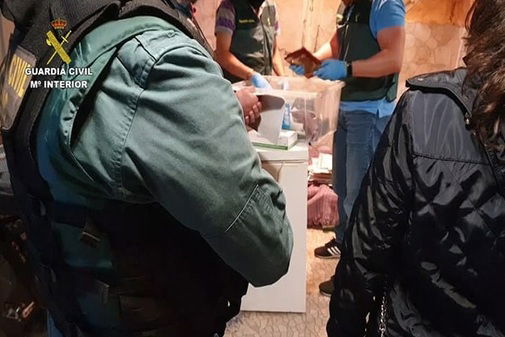 DURING operation "Cansino Lanas" the Guardia Civil have dismantled one of the largest drug rings in Spain.
Authorities have also re issued an arrest warrant for the ring leader of the group, Abdellah El Haj Sadek Membri, otherwise known as 'Messi' after he escape justice in 2017 after an agreement with the Prosecutors office left him a free man.
During his time on the run, he joined forces with one of the other large gangs in the south of Spain that controlled a section of the Guadalquivir River, a well sought after location for the import of illegal substances.
Messi, along with two brothers from the rival gang, used the river to transport tonnes of the hashish using semi inflatable vessels from the African Continent.
It was during one of the last operations that the gang performed, the Guardia Civil managed to intercept a vessel containing packages of the drug, leading to a full investigation which drew officers to the heart of the organisation.
In the sting, a total of 6,060 tonnes of hashish was seized, along with five of the boats used to introduce the drug valued at €1.5 million, 17 vehicles -five of them stolen, €480,000 in cash, four short weapons and two long and another €94,000 that have been blocked in various bank accounts.
In addition, 78 people have been arrested or charged, eight of them women, for crimes of belonging to a criminal organization and drug trafficking and an international arrest warrant was issued against the ringleader.
Further operations in Gibraltar, Villanueva de Trabuco and Algeciras led to the seizure of more assets which have left the organisation all but dismantled.
A warrant for the arrest of Abdellah El Haj Sadek Membri remains active in the provinces of Seville and Malaga.