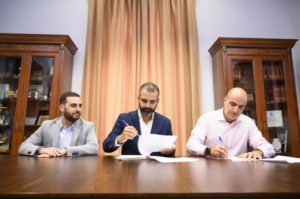 SCENES for Netflix hit series 'The Crown' will be shot in Almeria in October.
The Almeria city Mayor has signed an agreement with Ten Cents Films, the company responsible for the overseas shoots for the fourth season of the international hit drama in which Oscar winning actress Olivia Coleman plays the Queen.
Council head Ramon Fernandez-Pacheco revealed the provincial capital will appear in the credits and items used in the filming will be exhibited in the city's Casa de Cine.
In return, as an incentive the production company is exonerated of paying taxes for the shoot.
Ten Cents' Ramon Caravaca explained that Almeria will play the part of a number of different places of the world.
"We want you to be aware of the great potential which Almeria has for shoots", he commented.
The Mayor expressed his delight that "Almeria is again positioned as a privileged location for cinematographic and audiovisual shoots."
The role of the city as a location for The Crown "is an opportunity we cannot let pass", he stressed.
Declaring himself a fan of the programme, Fernandez-Pacheco said this agreement with Ten Cents represented "another step forward in the most ambitious project in which the public administrations are working to make Almeria a current and future land of cinema, without forgetting its filming past."