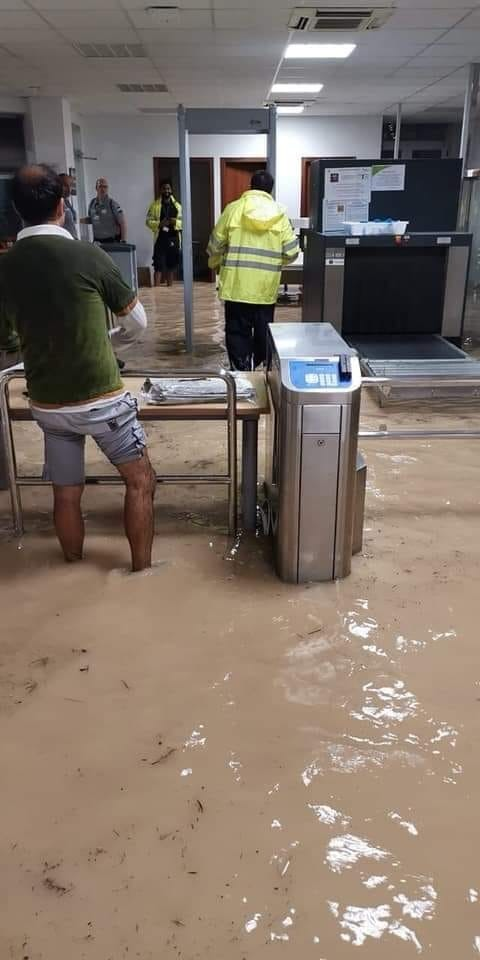 AT LEAST THREE people have died after torrential rain, terrifying lightning storms and flash floods have swept across south-eastern Spain
Spain's acting prime minister, Pedro Sánchez, said the country's military emergency unit is now on the streets helping combat what is called a 'gota fria' (cold drop).
Tens of thousands of Brits travelling to and from Spain are also facing serious disruption as the rain and gale-force winds hit holiday flights, forcing the closure of a number of airports.
Alicante airport was hit by massive delays. The airport has suffered vast flooding leaving staff and officials knee-high in water.
Palma airport in Mallorca has only just been reopened after being paralysed by the storms for more than an hour.
Ibiza airport was also affected by the storms and at one stage, Almeria airport on the mainland was also closed.
Murcia's international airport also had to close and has yet to reopen.
Vista áerea de las inundaciones en Orihuela (Alicante) 12-09-2019

¡Impresionante vista aérea! 😯⚠ Esta tarde (12/09/2019), la Unidad Militar de Emergencias ha documentado desde un helicóptero las inundaciones asociadas a las precipitaciones registradas en las últimas horas en el entorno de la ciudad de #Orihuela (#Alicante). Vídeo vía Información Vega Baja.

Geplaatst door MeteOrihuela op Donderdag 12 september 2019