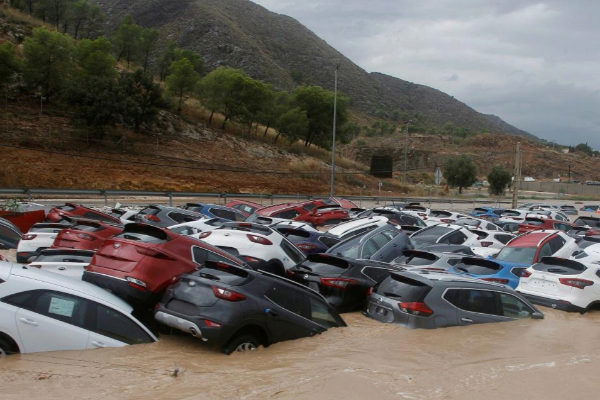 The video playlist of the floods that devastated parts of Spain and and took the lives of three people:
Recent videos sent to us by our valued readers have shown the true devastation that the recent storms have caused.
In the above video, flood waters can be seen flowing down the popular Cabo Roig area of Alicante.
Emergency services have advised residents to avoid travelling until the flood waters have subsided following the deaths of two people in the region.
THE Popular tourist beach of Campoamor in Alicante has been completely washed away as storm water ravages the Alicante coastline.
The video, sent in by a reader, shows the muddy water flowing down the street onto the beach area, narrowly missing a chiringuito.
Unfortunately the local ferry port has been destroyed, luckily with no casualties.
Las inundaciones repentinas causadas por fuertes tormentas de granizo se extendieron por Madrid, el lunes, inundando las calles de la ciudad. El Departamento de Metro español dijo en Twitter que varias rutas de metro permanecieron cerradas el martes 27 de agosto. (Reuters) #VOASocial

Geplaatst door Voz de América op Woensdag 28 augustus 2019
NEw
ESPAÑA / Miles de autos sumergidos en el agua en orihuela , alicante 😞😞🌊💦

Geplaatst door Apocalipsis Universal op Donderdag 12 september 2019
ESPAÑALas lluvias intensas han causado severas inundaciones en Moixent Valencia, esta mañana 12 de Sept.

Geplaatst door Clima Extremo 24 op Donderdag 12 september 2019
España es azotada por la temporada de lluvias que ya ha dejado dos muertos, cientos de personas desalojadas de sus casas y daños materiales en la zona este del país.

Geplaatst door El despertar a un nuevo mundo op Donderdag 12 september 2019
#Internacionales España: Tormentas eléctricas provocaron grandes daños en Valencia. Esto debido a que el río Clariano se desbordó. Los residentes han tenido que evacuar la zona.

Geplaatst door Tcs Noticias op Donderdag 12 september 2019
#GentedeAlicante impresionantes imágenes que nos llegan desde #Orihuela con las #inundaciones por #Dana ☔🌧⛈🌬Imágenes gracias a nuestro amigo Jefri que nos las ha enviado por privado. #CostaBlanca #lanuvees #lluvia #ComunidadValenciana #España #comunitatvalenciana #ProvinciadeAlicante

Geplaatst door Gente de Alicante op Donderdag 12 september 2019