This week Celebrity Chef from Ready Steady Cook & Fellow Master Chef Steven Saunders, proprietor of The Little Geranium in La Cala makes a quiche for Lorraine!
QUICHE LORRAINE is named after the Lorraine region of France.
It is a popular party dish often seen on a buffet table, but is also great as a lunch time snack. A few weeks ago Lorraine Kelly was in for lunch and I had planned to cook her a quiche as a special lunch tapa containing a home-smoked salmon, as a little joke and gift but she had booked in her husband's name and so I didn't know that she was coming until they arrived.
"Next time you come, WhatsApp me," I said "cos I want to do some special little dishes for you to try."
Serve it warm not piping hot, with fresh asparagus and a green salad on the side and you might be converted!
Steven Saunders's opinions are his own and are not necessarily representative of those of the publishers, advertisers or sponsors.
---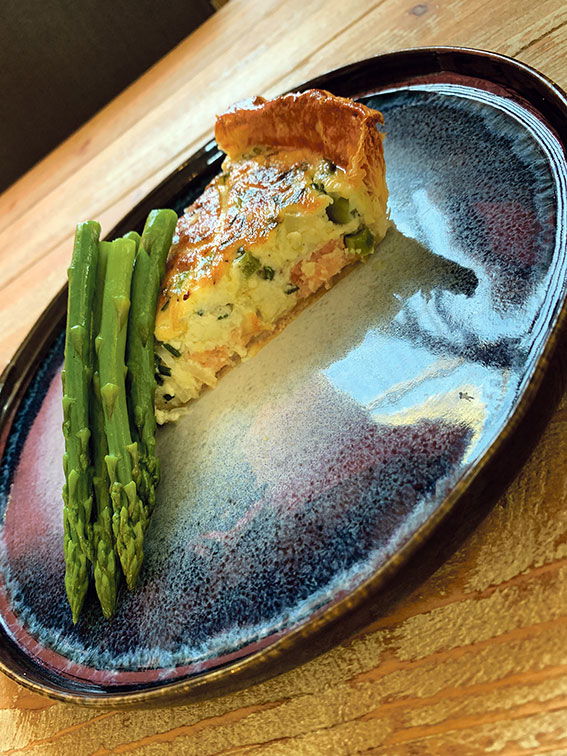 Quiche Lorraine
Serves 4
Ingredients for the pastry:
250g plain flour
200g butter
Good pinch salt
A little icy cold water
1 small bunch of chives finely chopped
Approx 15g butter
1 bunch of asparagus with the ends thinly sliced off (the remainder reserved)
2/3 spring onions, sliced thinly
300g smoked salmon
1 egg yolk for glazing
200g of grated gruyere or cheddar cheese grated
1 small bag of rocket washed and chopped
500ml double or thick cream
4 eggs, plus 1 yolk
Salt and pepper
Method
To make the pastry, put the flour, butter and salt into a food processor and whizz until the mixture resembles breadcrumbs. Add about one tbsp of cold water and whizz again. Whizz until the mixture comes together into a ball. Wrap in clingfilm and refrigerate for 30 minutes (or buy ready made and ready rolled puff pastry made with butter.)
Preheat the oven to 190ºC.
Brush a 23cm (9in) removable bottomed tart tin inside with some melted butter and then dust with flour.
Line the tin with the rolled out pastry. Put some greaseproof paper into the tin on top of the pastry and fill with baking beans or dried uncooked pulses.
Bake blind for seven minutes, then remove the beans and paper and discard and brush the tart case with the egg yolk, to glaze and strengthen, prick the tart with a fork to stop it rising and put it into the oven again for another three to four minutes. Leave to cool.
Turn the oven down to 180ºC.
Cut the smoked salmon into small 1cm pieces.
Beat together the cream and eggs. Season well. Heat the mixture over a low heat in a saucepan and as it warms add the grated cheese to create a thick custard. Stir well and keep stirring until thick and warm through.
Put the cut ends of the asparagus, the chives, the rocket and the onions in a clean bowl and pour over the custard mixture.
Now pour this mix into the pre-cooked tart case and bake in the centre of the oven until set and cooked in the middle (about 35 minutes). Check with a sharp knife in the centre, when the knife comes out clean it is cooked.
Leave to cool for five minutes. It is great eaten warm rather than piping hot – carefully remove the tart ring.
Serve with lightly cooked al dente asparagus on the side and a salad.
Follow Steven on Instagram … saunderschef – Email any questions … steven@thelittlegeranium.com
The Little Geranium, Winner of Best Contemporary International Restaurant 2019-Costa Del Sol – www.thelittlegeranium.com