THIEVES suspected of stealing tens of thousands of euros from banks across Spain are under arrest after Local Police in Huercal-Overa (Almeria), tipped off the Guardia Civil they had spotted the gang eyeing up a suitable target in the municipality.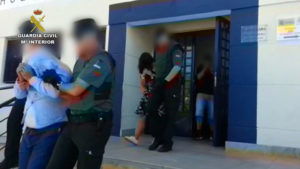 The Guardia said the three men and a woman had since July last year hit banks in Murcia, Granada, Gipuzkoa, Bizkaia, Burgos, Pamplona, Alicante, Valencia, La Rioja, Zaragoza, Pontevedra and A Coruña, getting away with more than €200,000.
There were no weapons involved in the robberies. Prior to the thefts the four would take turns to watch the staff and note how they worked at the busiest times of day. Wearing disguises and using false identities, they would pass themselves off as clients and distract the employees while one gang member swiftly stole cash.
When officers detained the four they were carrying wigs, caps, glasses and frequency jammers. They also had on them a number of different IDs, all of them fictitious, and all of them related to similar crimes.
The Guardia said the four have been connected with 20 robberies, but the operation remained open and they did not rule out establishing they were behind more thefts.